New Jersey's Boozy, Male-Dominated Politics Gets Its #MeToo Moment
(Bloomberg) -- Women have whispered for decades about sexual harassment and worse from some male elected officials, lobbyists and others in New Jersey politics. Now victims are leading a #MeToo wave, to swift effect.
A former aide is using her experiences on Governor Phil Murphy's election campaign and as a Fox News commentator in a national drive for limits on workplace non-disclosure agreements. And two lobbying groups are promising a safer atmosphere for women after reports of groping and other inappropriate behavior at the groups' networking events.
In the coming weeks, a panel including lawmakers, lobbyists and victim advocates will hold listening sessions to solicit remedies to what Senate Majority Leader Loretta Weinberg calls "a toxic climate" for women in and around New Jersey government. Its work will be guided in part by an anonymous survey on misogyny and sexual misconduct that received 170 responses in its first 24 hours online.
"There are guys who are worried because they know what they have done," Jeannine LaRue, a 40-year veteran of New Jersey government and lobbying who is on the panel. "With the limelight on this, people are now policing their behavior."
Women are central to the state's tough-customer identity, with "Jersey girl" culture immortalized in a Bruce Springsteen song and innumerable bumper stickers hailing sassy self-reliance. In the state legislature, though, Jersey girls are under-represented: 31% of the seats are held by women, just 2 percentage points higher than the 50-state average, according to the National Conference of State Legislatures.
New Jersey politics is entrenched in a system where party leaders reward loyalists with prominent ballot spots and campaign cash. Former state Senator Barbara Buono, a Democrat who lost the governor's race to Republican incumbent Chris Christie in 2013, slammed her own party's bosses in her concession speech.
"New Jersey represents the last vestiges of the old-boy machine politics that used to dominate states across the nation," Buono said.
Today, the governor and the two highest-ranking state lawmakers are male, as are the heads of the New Jersey Democratic and Republican committees. Of 42 county party leaders, nine are women.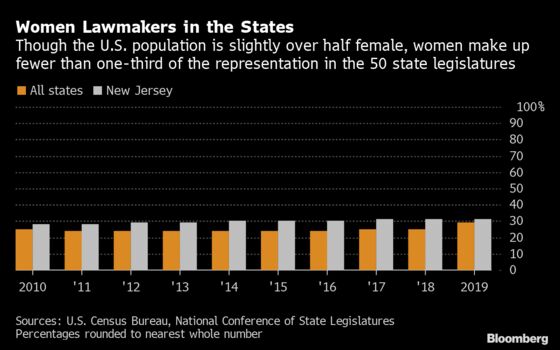 "It's very hard to break ranks with the machine and still be able to run a viable campaign," Patricia Teffenhart, executive director of the New Jersey Coalition Against Sexual Assault, said in an interview. Teffenhart is a member of the Workgroup on Harassment, Sexual Assault and Misogyny in New Jersey Politics, the listening panel that will start its tour this month.
Murphy, a Democrat, made a particular appeal to women while campaigning for governor, and women's group endorsements helped him defeat his female opponent, Republican Kim Guadagno. Since coming to office in January 2018, he has made good on promises to better women's lives, including restoring health-care funding, boosting government roles, improving work conditions and increasing business opportunities.
A month after he became governor, Murphy said that his Cabinet would be majority women for the first time in New Jersey's 242-year history. Today, 13 of 25 appointed Cabinet members are female. His running mate and lieutenant governor, Sheila Oliver, also is head of the community affairs department.
But Murphy's circle has been struck by allegations of impropriety toward women by male aides working on his campaign. Last year, a special legislative committee found that Murphy's staff had mishandled a report of sexual assault by a volunteer against a staffer. Two other women have said one campaign aide had a violent temper, with one saying he threw a chair in her presence.
A fourth woman, Julie Roginsky, a veteran Democratic strategist for state and national candidates, alleges that while working for Murphy, she was called a gendered slur by campaign manager Brendan Gill. She complained to Murphy.
"I told him I never had a more toxic campaign experience in all my years, and this was setting an awful precedent for how his administration was going to go," Roginsky said in an interview.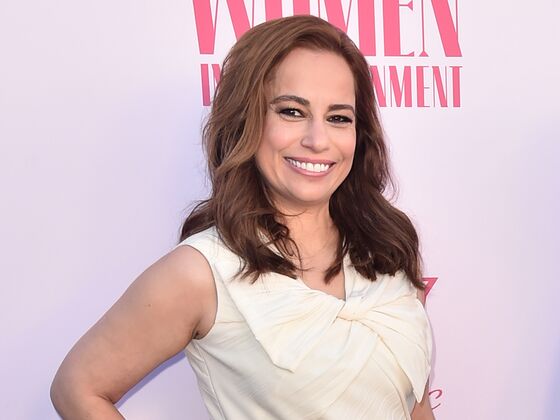 Gill, who holds elective office as an Essex County freeholder, says the two had disagreements. He had used vulgarities, he says, but he never directed a slur at her.
"It's a bald-faced lie," Gill said in an interview. "I worked on eight or nine races with her over 20 years, with never an ounce of an allegation, or an issue with behavior."
Murphy, in a statement, said the issue was "a personnel matter between two senior members of my team rather than relating to a larger workplace issue." During a Jan. 29 appearance in Jersey City, the governor told reporters that he had read and acted on Roginsky's complaint at the time.
"I read the email and made sure that it was followed up on," he said. "We took every person who raised their hand -- everything seriously, deadly seriously. And everything was investigated thoroughly."
Roginsky also alleged that Gill and another campaign staffer, Adam Alonso, had pressured some lobbying firms for business while he was working to get Murphy elected. Roginsky said some lobbyists complained to her and she shared their complaints with Murphy and campaign lawyers. She was fired soon afterward.
Until this week, Alonso and Liz Gilbert, another Murphy campaign veteran, were leading Milwaukee's host committee for the 2020 Democratic National Convention. The two have been placed on leave by that group because of "allegations of a toxic work culture," according to a Feb. 3 report in the Milwaukee Journal Sentinel.
Alonso didn't respond to a Twitter direct message and a voice message left at Cratos Group, his consulting firm. Gilbert didn't respond to a text message; her voicemail box was full.
Peg Schaffer, an attorney who spoke on behalf of Gilbert, said Gilbert hadn't been fired.
"She's been asked to stay out of the office for a couple of days while they investigate," Schaffer said by telephone.
Roginsky settled harassment claims against Fox News in 2017, a year after a similar lawsuit was settled by her former colleague Gretchen Carlson. She is using her experiences to spotlight how non-disclosure agreements can prevent workplace victims from airing their grievances.
In December, several women told the news site NJ.com that they had been the targets of groping, lewd comments and other bad behavior during boozy annual networking events sponsored by the New Jersey League of Municipalities and the New Jersey Chamber of Commerce, two of the state's biggest lobbying groups. Both organizations said they will alter the programs to foster a safer environment for women.
"For too many years, too many people in power have turned their eyes away from behavior they knew was not only happening, but was pervasive in Trenton," Murphy said in his annual address to the legislature on Jan. 14.
Last year, Murphy signed legislation co-sponsored by Weinberg, the Senate leader from Teaneck, to prohibit employers from using non-disclosure agreements to silence workplace harassment victims. Such documents have stifled details in high-profile cases involving President Donald Trump, Hollywood producer Harvey Weinstein and others.
The upcoming New Jersey forums, Weinberg says, are fueled in part by increased awareness about unacceptable behavior.
"It is hopefully giving some confidence to younger women -- that they can speak up and there will be a cadre of us to work as best we can to protect them from being retaliated against," Weinberg said.
LaRue, a senior vice president of Ewing-based lobbying firm Kaufman Zita Group and a former Casino Control Commission member, said she was harassed, physically and verbally, from the start of her Trenton career. She pointed to the changes in store for the networking events as evidence of a burgeoning cultural shift.
"I was 29 when I started in this business," LaRue said. "I had to just keep fighting and hitting people's hands from my butt. These young women in their 20s -- do they really have to wait two to three decades before they can just walk into the statehouse?"