Myanmar Police Fire Rubber Bullets, Tear Gas at Protesters
(Bloomberg) -- Follow Bloomberg on LINE messenger for all the business news and analysis you need.
Myanmar's police fired rubber bullets, tear gas and water cannons to quell demonstrations throughout the country on Tuesday, leaving two people in critical condition after anti-coup protesters defied a ban on public gatherings.
At least 20 protesters were injured occurred after police used rubber bullets in the capital Naypyidaw during the most serious clashes, according to a network of medics supporting the protests. In the northern city of Mandalay, witnesses said security forces blasted tear gas and water cannons and detained 36 people, while police threatened to disperse large crowds that gathered in the commercial capital of Yangon.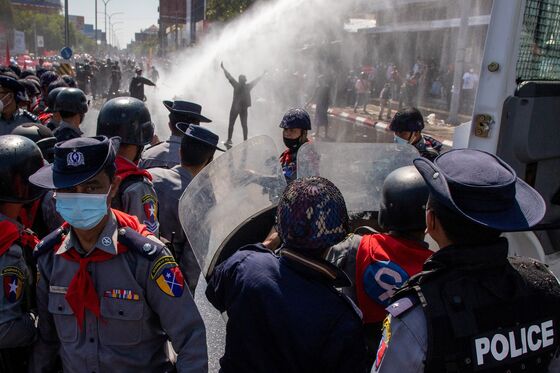 The at-times chaotic scenes showed the military regime losing patience with a youth-led protest movement that has seen tens of thousands of demonstrators swarm streets across the Southeast Asian nation since the weekend. They've used social media to quickly mobilize supporters with three main demands: the release of civilian leaders including Aung San Suu Kyi, recognition of the 2020 election results won by her party and a withdrawal of the military from politics.
The United Nations in Myanmar expressed strong concern over the actions of police and security forces, with Ola Almgren, the UN's resident and humanitarian coordinator in the Southeast Asian nation saying: "The use of disproportionate force against demonstrators is unacceptable."
As the protests began dissipating on Tuesday evening, Military chief Min Aung Hlaing warned civil servants not to engage in politics.
"They can vote freely for their favorite parties, but they cannot participate in politics while on duty," he was quoted as saying in a Facebook post by Tatmadaw Information Team.
He also said Myanmar would work within the existing agreements for the repatriation of "displaced people" in Bangladesh -- referring to the country's Muslim Rohingya minority. Some 740,000 Rohingya have fled Myanmar for neighboring Bangladesh since 2017, in a mass exodus provoked, as United Nations investigators noted, by security forces practicing "ethnic cleansing" and "crimes against humanity" with "genocidal intent."
On Monday Min Aung Hlaing defended the military takeover of the government by repeating claims of voter fraud in November's election that have been disputed by the election commission, international observers and Suu Kyi's party. He also reiterated that the army would hold an election after the yearlong state of emergency and respect the outcome.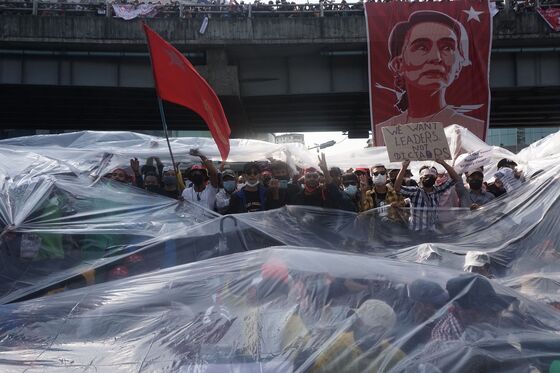 The coup reversed a decade of democratic progress that showed Myanmar's younger generation an alternative to the generals who have run the country for most of its history since it achieved independence from Britain in 1948. International pressure continued to grow, with the U.S. reiterating its plan to renew sanctions and New Zealand suspending high-level political and military contact with Myanmar.
Myanmar on Monday imposed a curfew and banned gatherings of more than five people, leading to tense standoffs throughout the day on Tuesday. Video footage from local news outlets showed protesters hurling debris at fleeing police vehicles in Mandalay as authorities used tear gas in an effort to disburse the crowd.
Protesters have vowed to continue demonstrations until their demands have been met. Myanmar's military has a history of deadly crackdowns against dissent: A United Nations report found 31 people were killed in 2007, while hundreds or possibly thousands were killed in 1988.