Myanmar Releases Two Reporters Jailed Over Rohingya Reports
(Bloomberg) -- Reuters journalists Wa Lone and Kyaw Soe Oo were released from prison as a part of the latest round of mass government pardons after spending more than 500 days behind bars for breaking Myanmar's official secrets acts.
The two reporters walked free from Insein prison Tuesday in Yangon. They had been serving a seven-year sentence for their reporting on atrocities against ethnic Muslims in Myanmar's western Rakhine State. Their lawyer Ko Than Zaw Aung confirmed they had been released at 9am local time with no forewarning. "They were release as part of an amnesty by the president. They want to see their families and are now on the way home."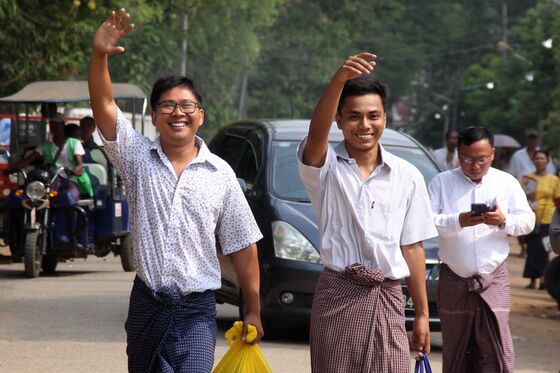 They were detained on Dec. 12, 2017 while working on an investigation into the killing of 10 Rohingya Muslim men and boys in a village in Myanmar's Rakhine state -- reporting for which they were awarded a Pulitzer prize last month.
Security forces in Rakhine have been blamed for rights abuses against Rohingya that sparked the exodus of some 700,000 people to neighboring Bangladesh.
The amnesty comes after Myanmar's highest court last month rejected their final appeal without elaborating on its reasoning, according to the defense's lawyer. Reuters has long maintained that the arrests were a sham, citing "compelling evidence of a police set-up."
They were among 6,520 prisoners let out today, in addition to the 16,000 released in three mass amnesties in recent weeks.
The two should never have been imprisoned in the first place and their release was long overdue, said Phil Robertson, deputy director of the Asia division at Human Rights Watch.
"But the crisis is not over for the literally dozens of other Burmese journalists and bloggers who are still facing baseless criminal charges," Robertson said in a statement. "Myanmar's faltering respect for media freedom is indicates the dire situation facing human rights and democracy as the country moves toward national elections in 2020."
International criticism over the case has damaged Myanmar's reputation, making it harder for companies that sought opportunities in the country after the U.S. lifted broad-based sanctions following its transition to democracy.
Myanmar's de facto leader Aung San Suu Kyi, herself a political prisoner before coming to power, said in September 2018 the controversial case "had nothing to do with freedom of expression at all."
The United Nations in Myanmar described their release as "a step toward improving the freedom of the press and a sign of Government's commitment to Myanmar's transition to democracy."