New Jersey Governor Warns of 'Outrage' Over Democrats' Redistricting Bid
(Bloomberg) -- New Jersey Democrats' attempt to ram through a redistricting bill that would have guaranteed their power for decades enraged Republicans and progressive groups alike -- and may have alienated their most loyal voters, Governor Phil Murphy said.
"Now they see the wool was being pulled over their eyes," Murphy, a Democrat who took office in January, said in a telephone interview Tuesday. The proposal was withdrawn two days before a vote, scheduled for Monday, after furious statehouse testimony that brought together unlikely allies. But the scuttled effort may fuel what Murphy called a "bigger outrage that might stay with us."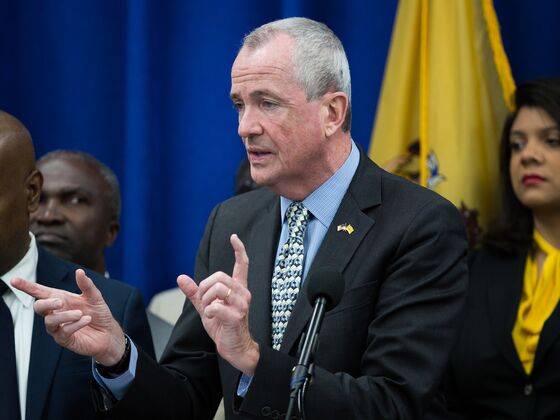 The bill would have asked voters to sanction a new method of drawing legislative districts, a step widely viewed as favorable to Democrats, whose party membership far outstrips Republicans and who hold the governor's office and dominate the Assembly and Senate.
Critics said the measure mirrored rear-guard efforts by Republicans in North Carolina, Wisconsin and Michigan to neuter the powers of Democrats who won statewide office. Those against the plan included Murphy himself, the GOP, good-government groups, voting-rights advocates, newspaper editorial writers and even former U.S. Attorney General Eric Holder, who served under President Barack Obama.
Though backers said the legislation would broaden the commission that governs redistricting, and the process would lead to more competitive races, foes said the effort, which was put on a fast track in November, reeked of a back-room deal.
"When you hear that something is being jammed through the night before Thanksgiving, you don't even have to know what it is -- you know it's fishy," Murphy said. "It struck a nerve inside a broader narrative -- the feeling that the system is rigged."
New Jersey flipped four of its five Republican-held House of Representatives seats to the Democrats in last month's mid-term election, helping to split control of Congress. The power shift nationally was seen as a rejection of Republican President Donald Trump and a boost for Democrats who are fighting for the Affordable Care Act, education spending and criminal-justice reform.
In New Jersey, Murphy said, the Democrats -- who have yet to vote on his plans to legalize recreational marijuana and raise the minimum wage -- should seize on mid-term momentum and, if they tackle redistricting again, seek transparency and inclusiveness.
"This was the opposite," he said.