Murphy Says N.J. Stuck With Low Credit Rating for Months to Come
(Bloomberg) -- New Jersey Governor Phil Murphy, preparing to meet with Wall Street credit rating companies to tout his $38.6 billion budget, says he doesn't expect a higher rating even after a spending plan is enacted in June.
"I don't see it," Murphy, a 61-year-old Democrat and retired Goldman Sachs Group Inc. senior director, told Bloomberg in an interview at his Trenton office 90 minutes after introducing his fiscal 2020 spending plan to lawmakers. "We've inherited an administration where there were 11 straight downgrades. They go down a lot faster than they go up."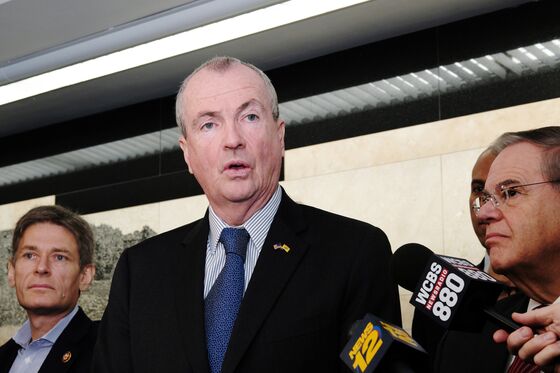 Murphy will meet with S&P Global Ratings, Fitch Ratings and Moody's Investors Service on March 7 in Manhattan to show how he's addressing the companies' demands for a bigger surplus, fewer budget one-shots, a pension payment as promised, and recurring revenue sources.
The governor said he's proud of what he's accomplished since coming to office in January 2018 -- what he expects to be the first back-to-back $1 billion-plus surpluses since 2009, for instance, and at least $800 million in health-care savings. But it will take time for the state to overcome the second-worst credit among U.S. state governments, behind Illinois. S&P rates New Jersey debt A-, seventh-highest, equal to Moody's rank. Fitch is one step higher.
Murphy said he expects the ratings companies to look favorably on his focus on the state's beleaguered mass-transportation system, key to New York City jobs, after eight years of budget cuts left it with unreliable service and escalating accidents.
"They know that NJ Transit on its feet is a major economic-development argument," Murphy said. The state eventually should get a better credit rating thanks to higher funding for its highly regarded public schools and his efforts to bring down the state's high cost of living, Murphy said.
"I use the word 'stabilize,' and that's what I want to do right now: stabilize the ship," he said.