Murphy Targets $1 Billion N.J. Surplus, Most in Decade
(Bloomberg) -- New Jersey Governor Phil Murphy is budgeting a $1.1 billion surplus for this fiscal year, a hedge against a potential national recession, according to two people familiar with the plan.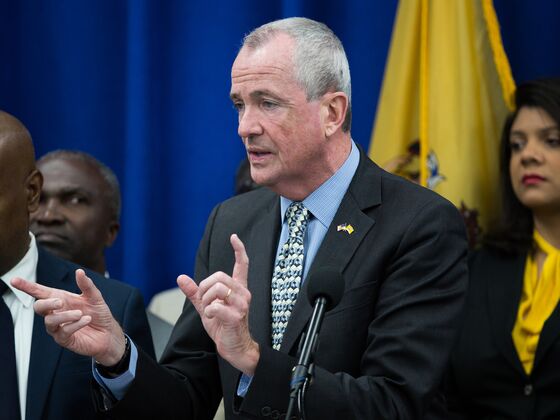 The state hasn't had a pad in excess of $1 billion since fiscal 2009, and thin annual margins figured into some of the 11 credit downgrades from the three major ratings companies during the eight years of Murphy's predecessor, Republican Chris Christie. For the year that starts July 1, Murphy is even more confident, with a $1.16 billion target, according to the people, who spoke on condition of anonymity ahead of the governor's budget address on March 5.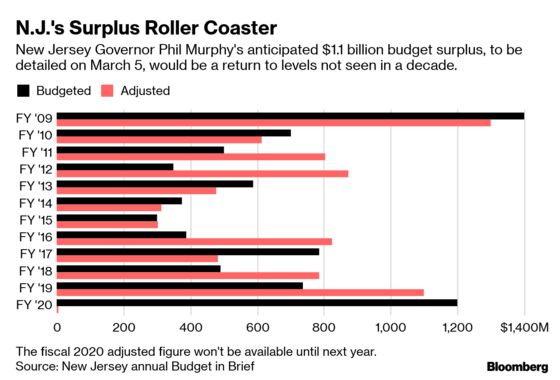 One of Murphy's goals, the people said, is to appease the ratings companies by showing how seriously he takes a cushier surplus. And as a retired senior director of Goldman Sachs Group Inc., they said, he's hearing economists' national slowdown predictions and looking to position New Jersey for a swift recovery, elusive for the most densely populated state for years after the 2008 global recession.
Yet even as Murphy is socking more away, New Jersey's revenue is running about $740 million short for the fiscal year ending June 30, as growth forecast at 7.5 percent instead has hit just 3 percent, according to a Feb. 25 report by S&P Global Ratings. The report singled out income-tax revenue as potentially troublesome, because year-to-date collections have declined 6 percent rather than gained an expected 5.4 percent.
Further, the new federal limit on state and local tax deductions may be clouding revenue forecasters' abilities in states such as New York and New Jersey, with high reliance on income-tax revenue, according to S&P.
A current-year shortfall could endanger the record $3.2 billion payment that Murphy has pledged to the state's pension system. Its funding level is among the worst of its peers and a factor in S&P's A- credit rating, its seventh-highest. Only Illinois has poorer credit among U.S. states. The state treasury points out that April's tax-deadline windfalls have filled gaps in the past, and it doesn't share S&P's concern.
For this year, Murphy had anticipated a $738 million surplus, about 2 percent of the budget. He later revised it to $765 million, and now expects $1.1 billion. New Jersey most recently exceeded $1 billion in fiscal 2009. Since then, New Jersey's adjusted surplus has ranged from $304 million to $873 million.