GOP Lawmakers Targeted by Trump Are Outraising Their Challengers
(Bloomberg) -- Three Republicans who've faced the wrath of former President Donald Trump raised more money in the second quarter than the challengers in their races he's endorsed.
Senator Lisa Murkowski of Alaska and Representative Anthony Gonzalez of Ohio both infuriated the former president by voting against him during his second impeachment proceeding. He has also criticized Katie Britt, a former chief of staff for outgoing Senator Richard Shelby of Alabama who's now running for the seat.
With support from some of the GOP's biggest donors, Murkowski took in $1.1 million in the second quarter, according to her latest filing with the Federal Election Commission. That topped the $750,000 that Kelly Tshibaka, who has also won the backing of the Alaska Republican Party, announced she'd raised in the first 94 days of her campaign.
Murkowski is the only Republican senator up for election in 2022 who voted to convict Trump in his second impeachment trial over his part in encouraging the mob that attacked the U.S. Capitol on Jan. 6.
Gonzalez is among the 10 House Republicans who voted to impeach Trump for his role in what happened on Jan. 6. He raised $602,520 in the second quarter, more than the $443,151 that Max Miller, a former Trump administration staffer who won the ex-president's endorsement, took in over the same period.
In Alabama, where Republicans should easily hold onto the open seat created by Shelby's retirement, Britt raised $2.2 million, more than Representative Mo Brooks, a Trump ally who took in $824,056. Brooks ended June with $1.7 million cash on hand, including money transferred from his House campaign.
Murkowski got support from some billionaire GOP donors and corporate political action committees. Hedge fund manager Paul Singer and retired Walmart chairman Rob Walton each gave $5,800, the maximum for both the primary and general elections.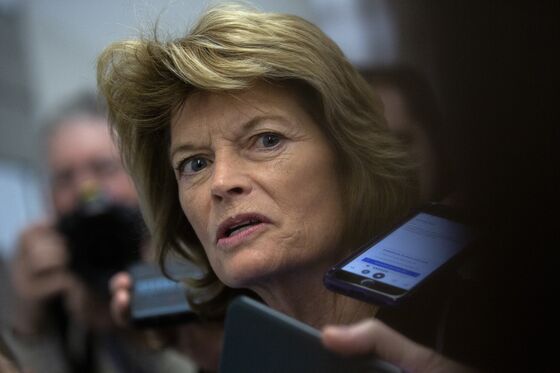 Blackstone's Stephen Schwarzman, who in 2020 donated $3 million to a super political action committee that supported Trump, contributed $2,900 to the Alaska senator. Amazon.com Inc.'s PAC gave $7,500, while Chevron Corp. and FedEx Corp. each gave $5,000.
Tshibaka, who is yet to file her report with the FEC, said she raised half of her money from Alaska residents and that 94% of it came from donors who gave less than $200. Murkowski had little small-dollar donor support, raising just $29,172 in that category.
In a statement on Thursday, Tshibaka underscored that contrast, saying of the incumbent senator: "She is part of the Washington, D.C., elite and she is beholden to the power brokers, not the people of our great state."
Trump has vowed to defeat Murkowski and the 10 Republican House members who also voted to impeach him, though in most races he's yet to endorse a candidate. Trump also said he would campaign for Tshibaka, a former Alaska Department of Administration commissioner.
Trump has also endorsed Representative Ted Budd of North Carolina, who's seeking the Republican nomination to replace Senator Richard Burr, who's retiring. Former Governor Pat McCrory, who's also seeking the seat, raised $1.2 million to Budd's $953,487, a figure that includes $250,000 that the congressman loaned his own campaign.
In June, Trump held a rally outside Cleveland ostensibly to support Miller, who addressed the crowd before Trump spoke. But the former president devoted much of his address to a familiar litany of grievances, including false claims about widespread fraud in the 2020 election and attacks on his successor, Joe Biden.
Gonzalez's donors included William Oberndorf, chairman of Oberndorf Enterprises, and Jay Faison, a major Republican donor, who both gave the maximum $5,800.
Brooks was among the 147 Republicans who voted against certifying Electoral votes for Biden after the Jan. 6 riot at the U.S. Capitol Hill. His campaign spent more than $26,000 at Trump's Mar-a-Lago resort in the second quarter, his FEC filing shows.
On Saturday, Trump reiterated his support for the Alabama congressman in a statement that also disparaged Britt and Senate Minority Leader Mitch McConnell.
"She is not in any way qualified and certainly not what our Country needs," Trump said. "Vote for Mo Brooks!"
Britt responded that she "didn't need anyone else to fight my battles" and "as Alabama's next U.S. Senator, I won't be a rubber stamp for anyone."