Mulvaney Says Trump Can Get His Wall With 'Executive Authority'
(Bloomberg) -- Acting White House Chief of Staff Mick Mulvaney said if Congress doesn't agree to President Donald Trump's request for $5.7 billion for a wall on the U.S.-Mexico border "we'll figure out a way to do it with executive authority."
Mulvaney, in an interview with Fox News' Sean Hannity on Wednesday, said officials are looking at multiple options and that the approach may be to "find the money that we can spend with the lowest threat of litigation and then move from that pot of money to the next pot that maybe brings a little bit more threat of litigation and then go through the budget like that."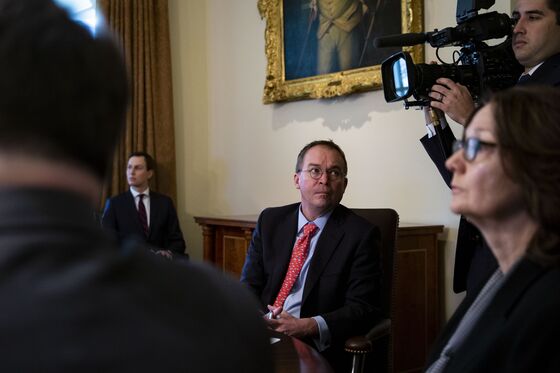 He did not say how the executive authority would be used. House Speaker Nancy Pelosi has refused to provide funds for a wall and the president has threatened to declare a national emergency that would bypass Congress.
The interview was broadcast a day after Trump's State of the Union address, in which he pledged to get the border wall he promised supporters built with or without lawmakers' cooperation.
The dispute between Trump and congressional Democrats over money for the wall led to a 35-day standoff that shut down part of the government. The shutdown, which began Dec. 22, was the longest in U.S. history.
The administration "would love to work with Congress," Mulvaney told Hannity, but if that's not possible, he continued, Trump has the "legal executive authority" to move forward, and that the administration already has identified "substantially more" than the $5.7 billion.
Lawmakers and legal experts agree if the president chooses to declare that illegal immigration at the southern border is a national emergency in order to redirect taxpayer funds without congressional approval, lawsuits to block him would force the question to court.
Representative Nita Lowey, the top Democrat working on a border-security deal to avoid another government shutdown before a Feb. 15 deadline, said lawmakers should be able to reach a bipartisan agreement by the end of this week.