Mueller Protection Bill to Be Offered by New Judiciary Chairman
(Bloomberg) -- Representative Jerrold Nadler plans to introduce a bill to protect Special Counsel Robert Mueller from interference in one of his first moves Thursday as the new Democratic chairman of the House Judiciary Committee.
The language will be similar to a previous House measure that didn't advance under Republican control of the chamber last year, said two officials familiar with Nadler's plans. It would allow Mueller, if he were to be dismissed, to challenge his firing in federal court, and it would preserve all of Mueller's work compiled before the action.
The previous bill was a companion to legislation introduced in the Republican-led Senate last session by Senators Lindsey Graham, a South Carolina Republican, and Corey Booker, a New Jersey Democrat.
Speculation that Mueller's Russia probe could become the target of interference has gained steam since President Donald Trump last year forced out former Attorney General Jeff Sessions and replaced him with an acting attorney general, Matt Whitaker, who has criticized the investigation.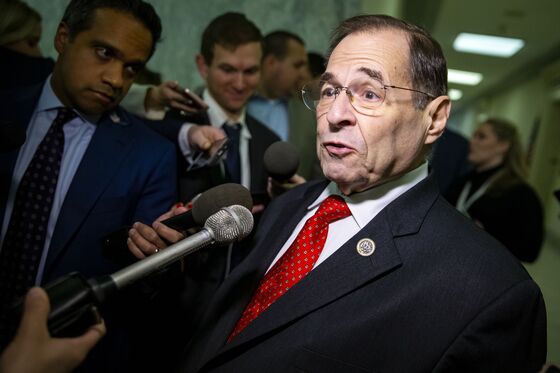 Trump later nominated William Barr to run the Justice Department, who sent an unsolicited letter to Deputy Attorney General Rod Rosenstein in June arguing that Mueller shouldn't be allowed to investigate and "interrogate" Trump for possible obstruction of justice. Mueller has been looking into Trump's decision to fire former FBI Director James Comey in May 2017. If confirmed, Barr would oversee Mueller unless it was deemed that Barr had a conflict of interest and he recused himself.
The effort to bring a Mueller protection bill to the Senate floor in November was blocked even though some Republican senators indicated support for it. The Senate Judiciary Committee had advanced the legislation under a deal reached by then-Judiciary Chairman Chuck Grassley and other senators.
With Democrats on taking control of the House Thursday -- and Nadler of New York holding the gavel of the committee that would be in charge of any impeachment hearings -- they have promised to take steps to enable Mueller to finish his work. Whether House passage of such a bill would prompt Senate action is unclear.
Separately, Representative Brad Sherman, a California Democrat, told the Los Angeles Times he plans on Thursday to introduce articles of impeachment against Trump. But incoming Speaker Nancy Pelosi, in a separate interview with NBC, again underscored that the House will wait until Mueller completes his work.
"We have to wait and see what happens with the Mueller report. We shouldn't be impeaching for a political reason, and we shouldn't avoid impeachment for a political reason," Pelosi said.