Manafort Lied Repeatedly, Wrecking a Plea Deal, Mueller Says
(Bloomberg) -- Donald Trump's former campaign chairman Paul Manafort lied repeatedly to authorities after striking a plea deal with prosecutors and pledging to cooperate, exposing him to a potentially lengthy prison term, U.S. Special Counsel Robert Mueller said.
The rupture in relations may have dire consequences for Manafort, 69, who sought to avoid spending the rest of his life in prison by pleading guilty to two conspiracy counts after a jury convicted him of bank and tax fraud. It could also hamper Mueller's ability to turn an insider against Trump in the investigation of Russian meddling in the 2016 election.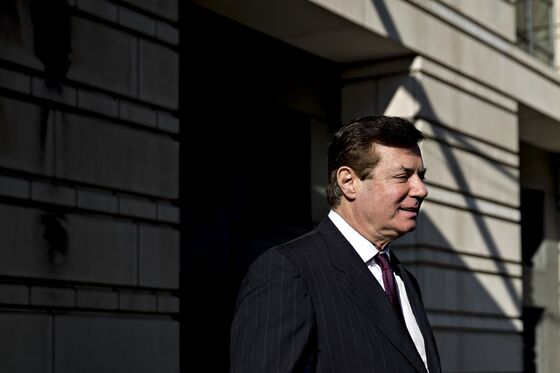 By accusing Manafort of lying when he pledged to tell the truth, Mueller used a filing in federal court in Washington to set up a dramatic courtroom confrontation with a man who could have been a valuable witness in new cases by the special counsel's office. Manafort denied the accusations in the same document. But the filing raised suspicions among lawyers not involved with the case about Manafort's motives.
"To the extent that he's lying to the special counsel's office, it says that he believes he can mislead them and walk away from this," said David S. Weinstein, a former federal prosecutor. "Perhaps he feels this is to get a pardon, if the ultimate goal is to protect Trump or people very close to him. He may be saying, 'I will tell the truth about myself but not implicate anyone else."'
Prosecutors don't lightly accuse people of breaching a cooperation agreement, said Mimi Rocah, a former federal prosecutor.
"He's either a pathological liar who is incapable of telling the truth and thinks he can outsmart prosecutors, or he's hoping for a pardon," Rocah said.
The three-page "Joint Status Report" had been eagerly anticipated since both sides received a 10-day extension to file it. With the end of the midterm elections, speculation mounted that Manafort might deliver information that could lead to charges against others in Trump's circle.
Instead, the document laid bare the differences between two sides who have met repeatedly since Manafort entered his guilty plea on Sept. 17 before U.S. District Judge Amy Berman Jackson. Had Manafort provided "substantial assistance" to prosecutors, they could recommend a reduction in the 10-year term he faced under the deal. They say they won't do that now.
The prosecutors were blunt in characterizing Manafort's misconduct. They said he "committed federal crimes by lying to the Federal Bureau of Investigation and the Special Counsel's Office on a variety of subject matters, which constitute breaches of the agreement."
Manafort's lawyers were just as plain.
"He believes he has provided truthful information and does not agree with the government's characterization or that he has breached the agreement," they said in the filing.
Now, Jackson must decide whether Manafort has been telling the truth or not. That would likely involve Mueller offering documents and witnesses at Manafort's sentencing hearing. Jackson already signaled her displeasure with Manafort when she ordered him detained without bail after Mueller accused him of tampering with witnesses.
"I view this as bad news for Mueller, as well as Manafort, since it means Mueller cannot use Manafort to testify against anyone else," said Seth Taube, a former federal prosecutor. "The special counsel has now said that Manafort is not credible. Manafort had to be deemed so far from the truth that the special counsel didn't feel he could be brought around to useful testimony in further sessions."
The breakdown comes at the same time that another cooperator in the Mueller investigation, George Papadopoulos, unsuccessfully sought to postpone his jail term, in the hope that an appeals court would overturn his sentence. He reported to serve his 14-day sentence Monday at a prison camp in Wisconsin.
Manafort admitted to the two conspiracy counts in Washington in September after a jury convicted him in Virginia earlier of tax and bank fraud. By pleading guilty, Manafort avoided a second trial on charges that he failed to disclose his lobbying in Washington on behalf of the Ukrainian government, and that he laundered money.
Prosecutors said they will file a report that "sets forth the nature of the defendant's crimes and lies." Under the plea deal, he faces as many as 10 years in prison in the Washington case. He may wind up with an even longer sentence if the judge finds he breached that deal. He also faces an additional 10 years in the Virginia case.
Both sides asked Jackson to sentence Manafort without delay.
Other high-profile members of Trump's campaign team are also due to be sentenced in December after providing information to federal prosecutors. The president's first national security adviser, Michael Flynn, entered into a plea deal with Mueller, while Trump's longtime personal lawyer, Michael Cohen, has been providing information to Mueller's team and federal prosecutors in New York, among others, a person familiar with the matter has said.
Mueller's condemnation of Manafort stands in stark contrast to his filing this month about Manafort's former right-hand man, Rick Gates. Prosecutors said Gates, who also pleaded guilty, is cooperating in "several ongoing investigations."