Cohen's Crimes Were 'Serious,' U.S. Says in Urging 42-Month Term
(Bloomberg) -- Michael Cohen, the longtime personal lawyer of President Donald Trump, took "significant steps" to assist Special Counsel Robert Mueller's investigation but doesn't merit special leniency in his sentencing, the special counsel's office wrote in a filing.
Mueller called Cohen's lies to Congress and the people "serious" while saying he has provided credible information for his investigation.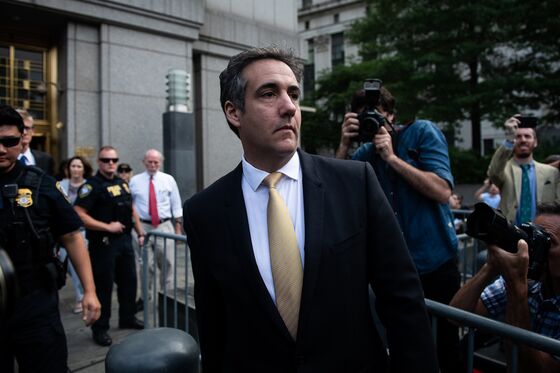 Mueller's filing came moments after federal prosecutors in New York said that Cohen had committed serious crimes -- including evading election laws, willful tax violations, defrauding business associates and lying to Congress and the American people -- and didn't merit a reduction in sentence.
The special prosecutor's office, while not asking for a shorter sentence, said that sentencing for any crimes in its matter could run concurrently with those prosecuted by the New York federal prosecutors. The prosecutors in New York asked for a "modest variation" from guidelines calling for a 51- to 63-month sentence. They recommended a term of 42 months and a $100,000 fine.