Mueller Asked Barr for Earlier Release of Redacted Probe Summary
(Bloomberg) -- Special Counsel Robert Mueller asked Attorney General William Barr in late March to quickly release a fuller summary of his investigation, saying that Barr's initial letter summarizing the findings caused "public confusion" and risked undermining public confidence in the investigation.
Mueller wrote in a letter to Barr on March 27 that he was providing an introduction and executive summaries that had been scrubbed of sensitive information.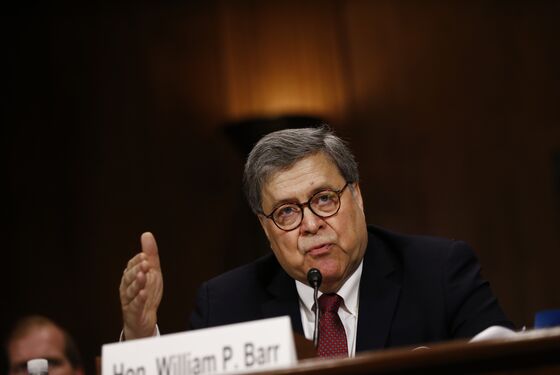 "I am requesting that you provide these materials to Congress and authorize their public release at this time," Mueller wrote, noting that he was following up on a request he first made two days earlier. "Release at this time would alleviate the misunderstandings that have arisen and would answer congressional and public questions about the nature and outcome of our investigation."
The letter was released Wednesday morning by the Justice Department after the Washington Post reported on it Tuesday. Mueller wrote in it that Barr's initial March 24 letter to Congress on Mueller's report "did not fully capture the context, nature and substance of this office's work and conclusions.
"There is now public confusion about critical aspects of the results of our investigation," Mueller wrote in a letter to Barr on March 27. "This threatens to undermine a central purpose for which the department appointed the special counsel: to assure full public confidence in the outcome of the investigation."
Barr told the Senate Judiciary panel on Wednesday that he wanted to release the full report, with appropriate redactions, all at once.
"I told Bob that I was not interested in putting out summaries and I was not interested in putting out the report piecemeal," Barr told the panel.
Barr's initial characterization of Mueller's findings stood uncontested until a redacted version of Mueller's report was released on April 18.
In fact, Mueller said he didn't make a "traditional" prosecution judgment on obstruction, mainly because he decided to abide by a Justice Department policy that says a sitting president cannot be indicted.
Yet he cited at least 10 examples of efforts to interfere in the investigation and pointedly added, "If we had confidence after a thorough investigation of the facts that the president clearly did not commit obstruction of justice, we would so state. Based on the facts and the applicable legal standards, however, we are unable to reach that judgment."
Justice Department spokeswoman Kerri Kupec said in a statement Tuesday evening that Barr called Mueller after receiving the special counsel's letter.
"In a cordial and professional conversation, the special counsel emphasized that nothing in the attorney general's March 24 letter was inaccurate or misleading," Kupec said in the statement. "But, he expressed frustration over the lack of context and the resulting media coverage regarding the special counsel's obstruction analysis."