Most Brazilian Voters Lack High-School Degree, Data Shows
(Bloomberg) -- More than half the voters in Brazil's upcoming elections quit studying before finishing high school, according to data from the electoral authorities.
One quarter of the voters haven't completed elementary education and some 4.5 percent are illiterate, data released by the country's Superior Electoral Tribunal showed. Brazilians without a high-school degree account for about 54 percent of those allowed to vote, or 79.5 million out of 147.3 million voters.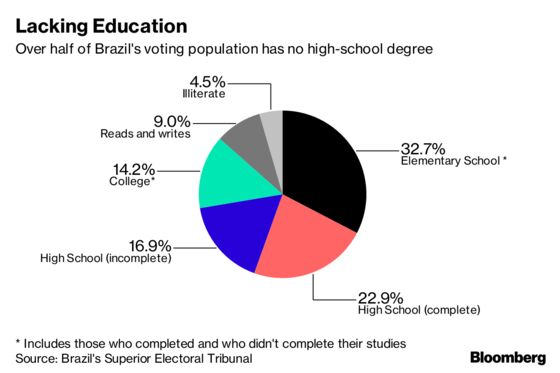 Women account for 52.5 percent of the electorate. Brazil's southeast region is home to 43.3 percent of the voters, with the states of São Paulo, Minas Gerais and Rio de Janeiro constituting the country's three-largest electoral colleges, respectively.