Moscow Virus Crackdown Sparks Rare Public Spat With China
(Bloomberg) -- Moscow's mayor sought to patch up a rare public dispute with China, as Russia's efforts to control the coronavirus fueled tension between the two close partners.
"I ask you to be understanding of the measures we're forced to take aimed at preventing the spread of coronavirus in one of the biggest megapolises in Europe," Sergei Sobyanin wrote in a letter Wednesday to China's ambassador to Russia, Zhang Hanhui.
The message came just days after the diplomat had written to complain that "the kind of special monitoring of Chinese citizens in public transport in Moscow doesn't exist in any country, even in the U.S. and western nations." Moscow transit authorities and police were "targeting only Chinese citizens" for checks to confirm that they weren't subject to quarantine orders, according to a text of the ambassador's letter published by Novaya Gazeta.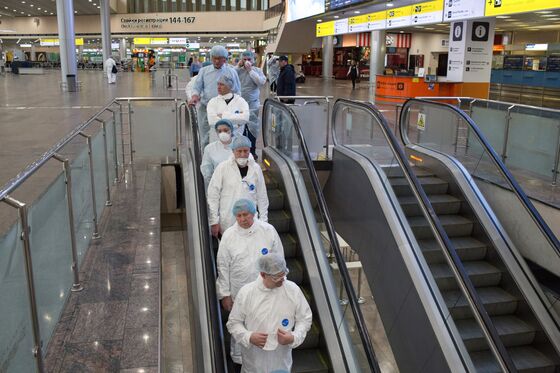 Russia imposed strict limits on travel to China as the virus spread there over the last month, cutting off most border traffic, limiting flights and banning visas for Chinese visitors. But Moscow stopped short of suspending air traffic completely, as some countries have done, seeking to maintain ties to its biggest trading partner. The Kremlin has built up close relations with Beijing, especially since the U.S. and European Union imposed sanctions starting in 2014.
"The treatment of Chinese citizens by Moscow authorities is more racist than we see in some other places around the world," said Alexander Gabuev, the head of the Carnegie Moscow Center's Russia in the Asia-Pacific program. "That's a point of concern for the Chinese government."
The Chinese embassy couldn't be reached for comment. A Moscow city official confirmed the receipt of the letter from the ambassador.
Sobyanin announced this week that authorities are taking special measures to prevent the spread of the virus. They include the use of face-recognition equipment and transit officials and police stopping people who appear Chinese to verify that they aren't subject to the mandatory 14-day quarantine orders imposed on people coming from China.
Sobyanin defended the city's measures as necessary and nondiscriminatory. But he pointedly noted that of the 88 people who've been detained for quarantine violations, 80 were Chinese citizens, and appealed to the Chinese government to make clear to its nationals the importance of following the rules.
"The epidemic has revealed a certain level of distrust from the Russian government and society towards China," Carnegie's Gabuev said. "I don't think that Moscow is happy with the amount of information that the Chinese government has been sharing with them."
Russia has reported only two local cases of novel coronavirus, both Chinese nationals living in Siberia. Three other cases were reported among Russian citizens on the Diamond Princess cruise ship in Japan. Officials said they've been repatriated to a hospital in the city of Kazan.
Russia's top public health official warned Wednesday that a broader outbreak is possible and told residents to be prepared. She said hospitals are being readied for more cases.
Her comments came as government auditors highlighted the poor condition of many of Russia's state-run medical facilities, of which half don't have hot running water, 41% lack central heating and 35% have no sewage service.
The Health Ministry later challenged that report, saying it counted all buildings, including garages and other technical ones, and that of the facilities where medical services actually are provided, about 90% or more have running water, heat and sewage.