Russia Detains Opposition Leaders, Drops Cases Against Activists
(Bloomberg) -- Russian authorities detained several opposition leaders who helped organize a wave of protests in Moscow while dropping criminal charges against five rank-and-file activists, a sign officials may be shifting tactics as the Kremlin attempts to quell the biggest anti-government movement since 2012.
Police detained Lyubov Sobol and Nikolai Lyaskin, who work at opposition leader Alexey Navalny's Anti-Corruption Foundation, and Ilya Azar, a journalist and local politician, on Monday and then released them pending hearings. Sergey Boiko, the head of Russia's Libertarian Party, and civil activist Mark Galperin, were detained on Tuesday, according to monitoring organization OVD-Info.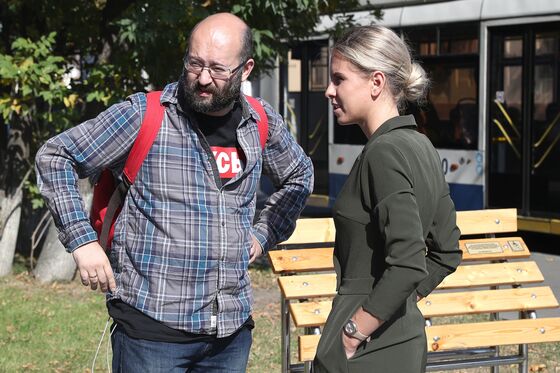 The crackdown on leaders of the opposition movement followed a low-profile approach adopted by police on Saturday when they allowed protesters to march through central Moscow even though officials hadn't approved the demonstration. Police responded to previous unsanctioned protests in support of opposition candidates barred from Sept. 8 Moscow city council elections with brutal interventions and thousands of detentions.
Meanwhile, Russia's powerful Investigative Committee said Tuesday it dropped charges against five men who attended a July 27 protest and were accused of participating in "mass disorder." In a rare about-face, it said a review of video material found the five didn't commit any crimes and were only suspected of administrative violations. Two other protesters under investigation were moved to house arrest, it said in a separate statement.
Two other protesters, Ivan Podkopaev and Danila Beglets, were sentenced to prison for assaulting police officers, RIA Novosti reported from a Moscow court Tuesday. Nine more remain under arrest.
A recent Levada Center poll showed a plurality of Russians considered the police "acted harshly and used unjustified force" against protesters, and even some allies of President Vladimir Putin have publicly called for a lighter approach. Rostec State Corp. chief Sergey Chemezov, who served with Putin in the KGB in East Germany, warned in an interview with RBC website last month that the country risked stagnation without a healthy opposition.
Anger at the authorities over the issue resulted in an Aug. 10 protest that drew as many as 60,000 people to a sanctioned protest, the largest anti-Kremlin demonstration since the 2011-2012 wave of unrest against Putin's return to the presidency following four years as prime minister.
It's not clear that the official pressure may break the movement. Several prominent opposition politicians, including Navalny and Ilya Yashin, have already been subjected to repeated harassment and detention for encouraging participation in protests, without any sign that it dissuaded their followers from attending.
The authorities also continue to give fodder for outrage to opposition-minded citizens. When police seized Azar on Monday evening, they left his almost two-year-old daughter alone in an unlocked apartment as they led him away, his wife said on Facebook.