Moscovici Says He Wants Italy `Closer' to EU Spending Rules
(Bloomberg) -- European Union economy chief Pierre Moscovici said he'll try to bring Italy "closer" to EU spending rules in negotiations over the country's 2019 budget.
"I will try until the end to convince the government and especially the finance minister that it's in the interest of Italy to get closer to the common rules," Moscovici told Bloomberg Television's Haslinda Amin. "As a commissioner I've got a duty to be neutral."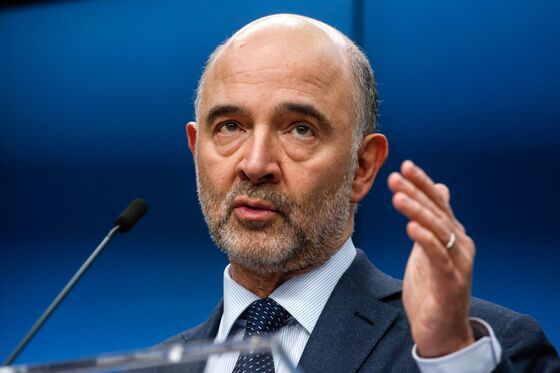 Moscovici and fellow EU commissioner Valdis Dombrovskis have already told the Italian coalition that its wider-than-expected budget targets point to a "significant deviation" from the bloc's agreed-upon fiscal path. The populist leaders have refused to back down from their expensive plans. A draft budget is due in Brussels for inspection by Monday.
Moscovici spoke in the interview Thursday from the site of the International Monetary Fund-World Bank Group annual meetings in Bali, Indonesia. He said he will be in Rome at the end of next week.
Deputy Premier Matteo Salvini is looking to parlay a surge in his support in Italy into a broader European movement to push back against the principles of budget restraint and open borders that have underpinned the construction of the EU. Looking ahead to next year's European parliamentary elections, he met with French nationalist Marine Le Pen in Rome this week.
"As a politician I don't agree with Mr. Salvini," Moscovici said. "As a Frenchman I combat Madame Le Pen."