Morrison's Coalition Remains Far Behind Labor in Australia Poll
(Bloomberg) -- Australia's ruling coalition remains far behind its main rivals even though more voters prefer Prime Minister Scott Morrison to run the country than opposition leader Bill Shorten, a poll released Monday showed.
Morrison's Liberal-National alliance trailed Shorten's Labor party by 12 percentage points, the same margin as two weeks earlier, according to a Newspoll released in the Australian. If that margin is replicated at the next election due by May, the coalition's one-seat majority would be replaced by a 30-seat deficit to Labor, the newspaper said.
The poor showing comes even as the poll showed Morrison, who became the nation's leader on Aug. 24 by winning a party-room ballot, leads Shorten as preferred prime minister by 42 percent to 36 percent. Malcolm Turnbull, who lost the top job, also consistently outperformed Shorten even as his government's popularity faded. Parliament resumed Monday for the first time since the leadership change.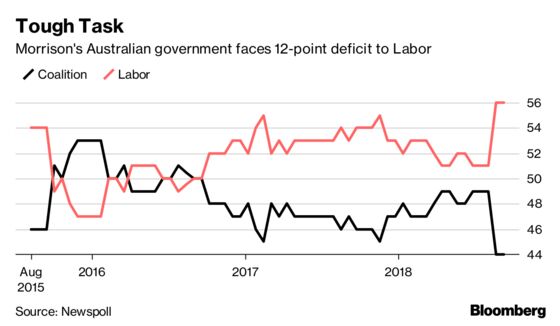 Morrison has attempted to distinguish his leadership from Turnbull, conducting press conferences in rugby jerseys and promoting family values, even as he abandoned key policy proposals like a National Energy Guarantee and corporate tax cuts. Morrison has indicated he needs to turn things around: Last week he labelled the destructive government infighting "the Muppet show."