Morgan Stanley Warns of a Watered-Down Brazilian Pension Overhaul
(Bloomberg) -- Morgan Stanley says 90 percent of clients in a recent survey expect Brazil to pass an ambitious pension overhaul, though with savings considerably smaller than what President Jair Bolsonaro has envisioned. That means investors should be cautious, according to the bank.
The vast majority of almost 100 clients in the study see savings of 690 billion reais ($185 billion), compared with the government's target of 1.2 trillion reais in 10 years. In this scenario, Morgan Stanley says the country's bond valuations don't support an overweight position, and tells stock investors to take a more defensive approach. Meantime, the bank recommends avoiding the real until the currency gets closer to 3.80 per dollar.
Brazilian equities have surged to a record high this year amid bets the government will approve the reform seen as key in shoring up finances and restoring investor credibility. Just a few hours after Bolsonaro's pension reform proposal was sent to Congress last week, markets reversed gains as attention pivoted to what is set to be a long and arduous debate that will keep traders on edge for months.
"So far, the bull market has been fueled by the dream of fiscal consolidation and a cyclical economic recovery," Morgan Stanley strategists led by Guilherme Paiva wrote in a report. "The next stage will be harder."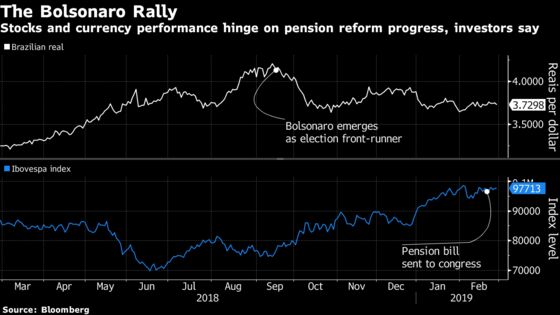 Morgan Stanley's survey also showed that local investors -- who made up 40 percent of respondents -- are slightly more upbeat than foreigners on stocks and less bullish on the currency. Both categories of traders said credit default swap spreads will compress unless savings were to amount to less than 400 billion reais.
If the overhaul fails, the respondents said the Ibovespa would drop by about 10 percent. If it exceeds expectations -- saving more than 800 billion reais -- stocks could jump 15 percent to 115,000. In this scenario, the Brazilian real would rise 8 percent to 3.46 per dollar.
Here are the clients' forecasts for assets by the end of the year:
| Asset | Year-end target (average) |
| --- | --- |
| Ibovespa | 110,000 points (+13%) |
| Brazilian real | 3.60 per dollar (+4%) |
| Jan. 2024 DI rate | 8.18% (-27bps) |
| 5-year CDS | 155bps (-10bps) |