Bolsonaro's Disapproval Reaches Record With Lula Gaining Ground
(Bloomberg) -- President Jair Bolsonaro's disapproval rating rose to the highest level of his term as the Brazilian leader finds himself enmeshed in multiple crises just a year ahead of a re-election bid. 
A poll conducted by XP/Ipespe showed 54% of Brazilians rate Bolsonaro as "bad or terrible," up from 52% in July. His popularity also slid with 23% giving him a "good or great" rating, down from 25%, according to the survey, which was released Tuesday.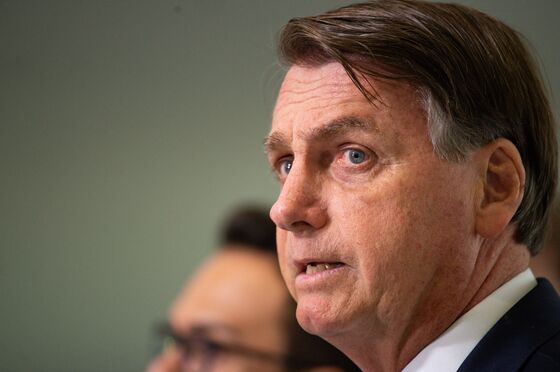 Bolsonaro is currently ensnared in a slew of criminal investigations for alleged irregularities in the procurement of vaccines and for efforts to cast doubt on Brazil's electronic ballot system. At the same time, a senate inquiry is digging into the government's hands-off approach to containing the coronavirus outbreak, which has claimed nearly 570,000 lives. The president has denied any wrongdoing on all fronts. 
The scandals have been a boon to the president's opponents. If elections were held tomorrow, the poll found that 40% of Brazilians would vote for former President Luiz Inacio Lula da Silva, up from 38% in July. Only 24% of respondents said they were for Bolsonaro, down from 26%.
Bolsonaro trails all potential candidates in a runoff vote, according to the survey, which also showed 61% of respondents would not vote for the incumbent under any circumstance. That compares with 45% for Lula, seen as his main challenger. 
Pollsters conducted interviews with 1,000 people between August 11-14, with a margin of error of 3.2%.