Harris Comes Off Trail to Vote 'No' on Barrett: Campaign Update
(Bloomberg) -- Kamala Harris, the Democratic vice-presidential nominee, voted against confirming Amy Coney Barrett to the Supreme Court. A former Goldman Sachs co-president gave $100,000 to the campaign of Democratic nominee Joe Biden. And at least 23 coronavirus cases in Minnesota have been linked to President Donald Trump's campaign events in the state.
There are eight days until Election Day and 49 days until the Electoral College meets.
Harris Returns to Senate to Vote Against Barrett
Harris, a California senator, took time off the presidential campaign trail on Monday to vote against the nomination of Barrett to succeed the late Justice Ruth Bader Ginsburg on the U.S. Supreme Court.
Harris came to the well of the Senate at around 7:53 p.m. Monday wearing a mask and signaled for the clerk to recognize her as the roll was being called. She pointed to the ground, casting her "no" vote.
Harris waved at Senator Chuck Grassley, who was presiding over the chamber, before she cast her vote. Grassley, an Iowa Republican, is the president pro tempore of the Senate and the former chairman of the Judiciary Committee.
In a post on Twitter, Harris wrote: "Republicans denied the will of the American people by confirming a Supreme Court justice through an illegitimate process -- all in their effort to gut the Affordable Care Act and strip health care from millions with pre-existing conditions. We won't forget this." -- Daniel Flatley
Former Goldman Sachs Co-President Gave Biden $100,000 (8:45 p.m.)
Harvey Schwartz, a former top executive at Goldman Sachs Group Inc., made a $100,000 contribution in early October to a committee that supports Biden and the Democratic National Committee.
Schwartz, who had been Goldman's chief financial officer, was tapped along with David Solomon to be co-president after Gary Cohn was chosen in December 2016 to chair Trump's Council of Economic Advisers. Schwartz was one of two potential successors to former Chief Executive Officer Lloyd Blankfein, but left the firm in March 2018. Solomon took the helm the following October.
The donation, first reported by CNBC, was made to the Biden Action Fund, which splits contributions between the Democratic nominee's presidential campaign and the DNC. Other big donors included designer Ralph Lauren, who gave $150,000, and former Treasury Secretary Lawrence Summers, who gave $50,000.
Even though Trump's 2018 tax package, which Cohn had a role in crafting, and other policies have helped Wall Street, executives have given more to the Democratic challenger. Biden's campaign and the DNC have raised $34 million from securities and investment firms, according to the Center for Responsive Politics, compared with $20.3 million for Trump and the GOP. -- Bill Allison
Minnesota Virus Cases Are Linked to Trump Events (7:51 p.m.)
The Minnesota Department of Health has linked coronavirus outbreaks across the state in September to three Trump campaign events and a protest at one of the president's rallies.
In all, at least 23 Covid-19 cases and two hospitalizations stemmed from the campaign events; four additional cases were traced to the protest. The data contradicts repeated claims by Trump that his large, often maskless rallies do not lead to outbreaks because they are held outside.
A Trump rally held outdoors at an airport in Bemidji, Minnesota on Sept. 18 resulted in 16 cases and two hospitalizations; four more cases stemmed from a counterprotest nearby. Less than a week later on Sept. 24, three cases were reported stemming from a speech by Vice President Mike Pence at the Minneapolis airport hotel. A Trump rally held at the Duluth Airport on Sept. 30 led to four more cases.
The coronavirus is surging across the U.S., particularly in the upper Midwest. As of Monday night, there have been 8,690,143 cases and 225,588 deaths. The U.S. added 60,683 cases on Monday, down from a new peak recorded two days earlier of 85,317. There have been 135,372 reported cases in Minnesota and 2,406 deaths. -- Emma Kinery
Biden Rebuffs Trump's Claim He Plans to End Fracking (5:14 p.m.)
Biden reiterated to Pennsylvania voters that he wouldn't end fracking, countering repeated accusations from Trump that he intended to curtail a vital industry in the battleground state.
"Let me make it clear: I'm not shutting down oil fields, I'm not eliminating fracking," Biden told reporters during a stop in Chester, Pennsylvania. "I'm investing in clean energy and we're going to make sure we don't continue to subsidize the oil companies."

The Democratic nominee and his running mate Kamala Harris have both repeatedly sought to clarify that they wouldn't eliminate fracking. The Trump campaign has seized on comments Biden made said in a presidential debate on Thursday, when he said that he "would transition from the oil industry, yes" and added that fracking would be replaced by renewable energy over time.
During two rallies in Pennsylvania on Monday, Trump streamed a campaign video of Biden's comments for the crowd, calling his opponent's stance "an existential crisis for the state."

Trump campaign adviser Jason Miller said in a call with reporters Monday that "we believe that Joe Biden made a fatal mistake in last Thursday's debate and this will definitely cost them one if not, multiple states." Biden has pledged that a fracking ban would be limited to federal land and would not destroy the oil and gas sector. -- Misyrlena Egkolfopoulou
Trump's '60 Minutes' Interview Draws Big Audience, Even After Walkout (4:30 p.m.)
The interviews with Trump and Biden on "60 Minutes" on Sunday attracted 16.8 million viewers, the largest audience for the program since it featured the adult film actress Stormy Daniels in March 2018, CBS said.
The episode Sunday also featured interviews with Vice President Mike Pence and running mate Kamala Harris.
The viewership on Sunday was well above the show's average audience of 10.3 million. The episode featuring Daniels, who alleged that she had an affair with Trump, attracted more than 22 million viewers.
Trump walked out of the taped interview with Lesley Stahl, and the White House later released clips of it before it was aired, complaining that it was "fake and biased." Stahl was asking the president when he plans to release his health care plan and what it contains when he ended the session. -- Emma Kinery
Trump Has Slight Lead in Texas, Breaking Dead-Heat Streak (14:59 p.m.)
Trump leads Biden by 4 percentage points in Texas in a New York Times/Siena College poll released Monday, after three other polls in the past week found the candidates statistically tied in the Republican stronghold.
Trump leads Biden 47% to 43% in the Times poll, which has a margin of error of 3.8 percentage points. The poll, conducted Oct. 20-25, shows Trump losing ground with key demographics of his base: the president won white college-educated voters in Texas by a margin of 24 percentage points in 2016; The Times poll shows him leading with the group by 2 points.
Hispanic voters in Texas still largely back Biden 57% to 34%, but the former vice president's margin is narrower than Hillary Clinton's in 2016. Hispanic voters in the poll report they voted for Clinton by a margin of 60% to 29%.
Texas hasn't elected a Democrat statewide since 1994 and hasn't voted for a Democratic presidential candidate since Jimmy Carter.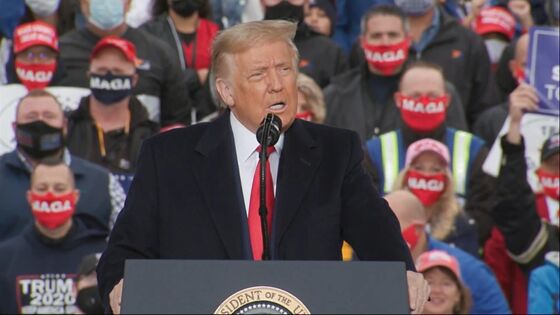 On Sunday, a poll by the Dallas Morning News/UT Tyler found Biden leading Trump by 2 percentage points among registered voters, 46% to 44%, and by a margin of 3 percentage points among all likely voters, 48% to 45%. Both results were within the margins of error. A Quinnipiac University poll released Wednesday found the candidates tied 47% to 47% among likely voters. -- Emma Kinery
Trump Boasts About Being Ahead in GOP Bastion Montana (1:34 p.m.)
Trump flaunted being ahead in the polls in Montana, a state that hasn't gone for a Democratic presidential nominee since 1992.
At a campaign event in Allentown, Pennsylvania, on Monday, Trump said he's doing well in polls in three traditionally Republican states.
"In Montana we're so far up they don't even -- they shouldn't even have the election," he said. "Likewise in Utah, so far up we're plus 12, plus 15. In West Virginia, we're 20 up -- 20 points up. These are just -- they came out today."
But Trump's advantage in Montana is much narrower than in 2016, when he won the state with a 20-point lead. A recent poll by the New York Times/Siena College showed him ahead of Biden by just 6 percentage points.
With a competitive Senate race and an open governor's race on the ballot as well, the state is also showing signs of a high-turnout election, with early votes already accounting for 70% of the total number of ballots cast there in 2016. -- Justin Sink
Biden Has an Ad for Just About Everybody (9:50 a.m.)
Flush with cash, the Biden campaign isn't just running a lot of ads, it's running a lot of different ads.
It also released ads featuring Biden talking about being a "union man," an older woman talking about Social Security and a Pittsburgh iron worker talking about infrastructure as Bruce Springsteen songs play.
Biden can make all these ads because his blockbuster fundraising left him with $107 million in cash more than Trump in the final weeks of the campaign.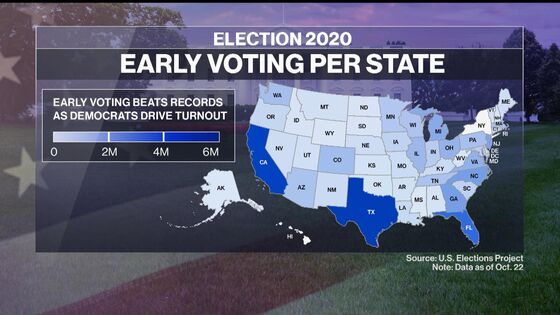 Trump and Biden Are Tied in Georgia (7:20 a.m.)
Biden will visit Atlanta on Tuesday, as a new poll shows the presidential race is essentially tied in Georgia.
In a survey by the University of Georgia's School of Public and International Affairs released Monday, 47% of likely voters backed Biden and 46% supported Trump, within the margin of error. Georgia has not voted for a Democratic presidential nominee since 1992.
The survey also showed competitive Senate races, with Democratic challenger Jon Ossoff essentially tied with Senator David Perdue, 46%-45%, but still below the 50% threshold to avoid a runoff in January.
In Georgia's second Senate race, 34% backed Democrat Raphael Warnock, pastor of the Ebenezer Baptist Church; 21% supported Representative Doug Collins and 20% backed incumbent Senator Kelly Loeffler, with 14% saying they were undecided.
The poll of 1,145 likely voters in Georgia was conducted Oct. 14-23. It has a margin of error of plus or minus four percentage points.
Early Voting Surpasses 2016 Total With a Week Left to Go (6:52 a.m.)
More Americans have voted early already than did before the 2016 election.
With eight days until the election, 59.4 million people have cast ballots in-person at early voting centers or by mail, according to the U.S. Elections Project.
That's more than the roughly 58 million who voted before Election Day in the last presidential ballot.
It's not yet clear whether the surge in early voting will reflect higher turnout overall or whether most early voters would have cast ballots on Election Day regardless.
The pool of early voters skews heavily Democratic, however, with 49% of returned ballots in states that identify party ID coming from Democrats, 28% from Republicans and 22% from independents, according to the Elections Project.
Biden Picks Up Endorsement From Conservative Newspaper
A prominent conservative newspaper endorsed Biden Sunday, the first time it has backed a Democrat in more than a century.
In its endorsement, the editorial board of the New Hampshire Union-Leader praised Trump's judicial appointments, tax policy and accomplishments in the Middle East but said that his handling of the national debt and the coronavirus and his demeanor made him a bad choice.
"President Trump is not always 100% wrong, but he is 100% wrong for America," the editorial board wrote.
The Union-Leader endorsed former New Jersey Governor Chris Christie in the 2016 Republican presidential primary, then broke with tradition in the general election to back Libertarian nominee Gary Johnson.
Biden Gets More Pro Wrestlers in His Corner
Trump, whose Atlantic City casino hosted Wrestlemania and who had cameos at several wrestling matches, may be in the WWE Hall of Fame, but it's Biden who has racked up the endorsements lately.
In a one-minute ad, former pro wrestler Dave Bautista, best known for playing Drax the Destroyer in "Guardians of the Galaxy," says Trump is "someone who portrays himself as a tough guy."
"It's easy to lie to people. It's easy to bully people. That does not make you a tough guy," he says.
Former pro wrestlers Dwayne "The Rock" Johnson and Mick "Mankind" Foley have also endorsed Biden, although the president still has the support of WWE CEO Vince McMahon, whose wife, Linda, served in Trump's Cabinet.
Trump is holding several rallies a day in key battleground states. Biden travels to Georgia on Tuesday.