Catalan Budget Block Is a Mistake, Montero Says: Spain Update
(Bloomberg) -- Spain could face a snap election if Prime Minister Pedro Sanchez fails to get his budget plans through parliament on Wednesday. The Socialist leader's position is complicated by his reliance on pro-independence parties and a trial of Catalan separatist leaders starting Tuesday in Madrid means those parties probably won't back the central government. Here are the latest developments from Tuesday's budget debate in parliament. All times CET.
Tarda: Catalan separatist is trial vengeance-based: (6:23 p.m.)
Joan Tarda, a deputy for the Catalan separatist party ERC that plans to vote against the budget, attacks the trial of pro-independence leaders that began in Madrid today. "We have colleagues in jail, in the 21st century," he tells Budget Minister Maria Jesus Montero. "We're dumbstruck." Montero tells him she thinks his party is making a historic mistake by failing to support the budget.'
Casado: Budget Is "Last Plank From Shipwreck" (3:33 p.m.)
After Spanish lawmakers return from lunch, opposition People's Party leader Pablo Casado begins his response Montero with a blistering attack on the government's spending plans, which he says are doomed. The budget seeks to finance the "break with the law" that Catalan separatist parties are trying to bring about with their independence campaign, he says. He also blasts Sanchez's economic plan, saying a proposal for a 22 percent hike in the minimum wage could destroy tens of thousands of jobs.
Montero: Don't Lie, Engage in Debate (13:23 p.m.)
Montero ends her presentation after around 80 minutes by urging other parties that have been supportive of the government in the past to detail whatever they disagree with and engage in debate. She asks them to stop attacking the budget plan with "lies" and to present alternative proposals instead. "From the PP and Ciudadanos, I expect nothing," Montero says, in reference to the two main opposition parties on the right.
The vote Wednesday will be "the government's own no-confidence vote," Dolors Montserrat, the People's Party spokeswoman in parliament, says after Montero's presentation.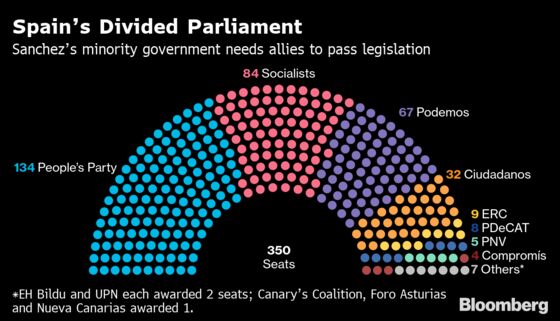 Montero: Spain Won't Accept Secessionist Blackmail (12:12 p.m.)
As the debate gets underway, Montero makes a spirited defense of the spending plan, which she says the country needs to protect growth and social cohesion. She's making it clear that the government won't seek the support of Catalan separatist parties if they insist on demands -- such as a referendum on self-determination -- that go against the constitution.
Sanchez took to Twitter earlier to accuse right-wing opposition and Catalan independence parties of working to the same end by blocking the budget. "They want the same thing: a Catalonia in confrontation with itself and a Spain in confrontation with itself," he said.