Monster Storm to Test Trump's Management Skills
Donald Trump's boasts of his disaster management skills are about to be put to the test.
The president said he expects Hurricane Florence — which is barreling toward North Carolina — to be among the worst storms ever to strike the U.S., but that federal agencies are well prepared.
"We're as ready as anybody's ever been," he said after a briefing from the leaders of the Department of Homeland Security and the Federal Emergency Management Agency.
Mind you, he also called the federal response to Hurricane Maria last year an "unsung success." That storm killed almost 3,000 people in Puerto Rico and left most of the island without power for weeks.
In political terms, there's more riding on the government reaction this time around.
Florence, set to strike less than two months before the November midterms, has the potential to inject a fresh dynamic into the race for control of Congress. If the Democrats gain a House majority, that would allow them to intensify scrutiny of the president and stymie his agenda.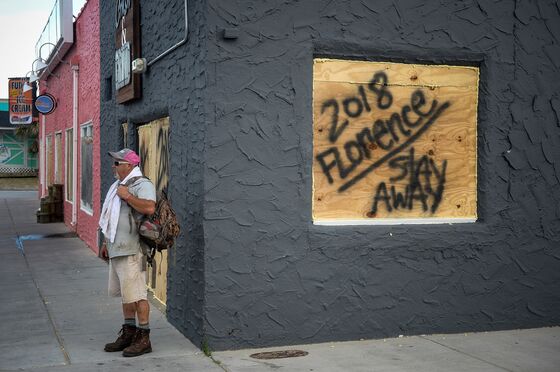 Presidential negotiator | Standing between Trump and Robert Mueller is a little-known Florida lawyer who's leading high-stakes talks over whether the president will confront questioning from the special counsel's investigators looking into alleged election meddling by Russia. Jane Raskin's behind-the-scenes work contrasts with that of former New York Mayor Rudy Giuliani, who has become the combative public face for Trump's attacks on Mueller, Shannon Pettypiece writes.

Progress and danger| As the U.K. inches toward a divorce deal with the European Union, Prime Minister Theresa May faces a renewed threat from hardliners inside her own party who think she's betraying their vision of a clean break from the bloc. As Tim Ross and Ian Wishart report, a special November summit to sign the agreement could be announced within days. Major obstacles remain, in particular on the issue of the Irish border. But May's biggest challenge may be closer to home.

The price of peace | Three months after Trump's historic handshake with Kim Jong Un, the North Korean leader is holding up talks over one consequential demand: a declaration ending the Korean War. The request presents a dilemma for Trump: Granting it could mean another headline-grabbing moment to play the peacemaker weeks before the midterms. Withholding it could give the U.S. a lever to first demand real concessions toward eliminating Kim's nuclear threat. 

Bosnian threat | Sarajevo glove maker Kerim Svrakic survived the war that ripped Bosnia apart in the 1990s and now, like many in a city synonymous with 20th century conflict, fears Europe is sleepwalking toward another rupture. Balkan leaders emboldened by Russia, Turkey and Trump's revisions to U.S. foreign policy are seeking to unpick ethnic and territorial agreements that have underpinned an anxious peace for two decades. "I'm sorry I didn't leave before the war," Svrakic tells Andrea Dudik and Jasmina Kuzmanovic. "I feel nothing is safe."

Canada digs in | As Justin Trudeau's government squares off with the Trump administration on Nafta, it's also working on another trade battle. As Bryce Baschuk reports, Canada has put together a draft paper on modernizing the World Trade Organization — a body Trump has targeted — and will hold talks with other countries next month on how to revamp and defend it. Meanwhile, there's not much progress in the Nafta talks.

Swedish talks| Party leaders are starting to emerge after Sunday's election with the result still too close to call and a recount in progress. The center-right opposition said today it was open to cooperating more broadly with the center-left Social Democrats on a host of issues in order to stop a nationalist group from gaining influence.
What to Watch

- European lawmakers are likely to vote today to censure Hungary for undermining democratic checks on its government.

- Fernando Haddad, finally endorsed by Brazil's imprisoned leader Luiz Inacio Lula da Silva as his party's presidential candidate, is picking up in opinion polls, with the 55-year-old former Sao Paulo mayor in a tie with three other contenders for second place.

And Finally...Nearly four years after the heiress daughter of the Korean Air chairman forced a plane to turn back because a stewardess served her macadamias in a packet rather than on a plate, nuts are again making waves. This time Sri Lankan President Maithripala Sirisena has reportedly attacked his country's debt-laden airline for serving him inedible cashews. At an event with farmers, he said he'd been given nuts that "even dogs can't eat." "Who approved the cashew?" he demanded. "Who is responsible?"