Mongolia President May Go on Hunger Strike to Protest Parliament
(Bloomberg) -- Mongolia's president said he may go on a hunger strike or stage a sit-in as a last resort to pressure the North Asian nation's parliament to voluntarily disband after he criticized it for failing to stand up to economic challenges.
President Khaltmaa Battulga, who has only has limited power to introduce and veto legislation, made the suggestion in a television interview Monday. He earlier submitted a proposal to open discussions to dissolve the parliament, citing inaction by the government after it sought a bailout from the International Monetary Fund last year.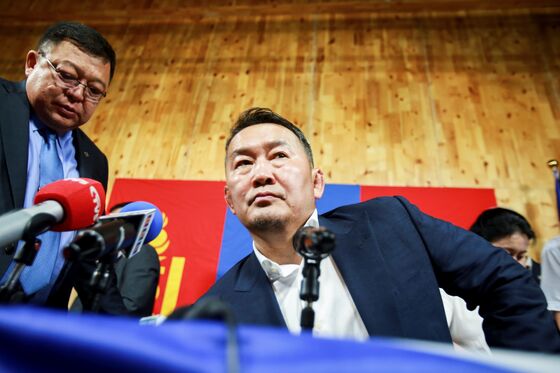 Asked in an interview with Mongolia's C1 Television what he'd do after asking the parliament to disband, Battulga said: "Hunger strike?"
"This is the the stage we're at," said the president, who also suggested a sit-in. "I've tried different means by sending proposals, and we've discussed the matter."
A spokeswoman for the president declined to comment on the seriousness of his remarks.
Battulga's actions were largely seen as a political stunt ahead of planned parliamentary elections in 2020, in which his opposition Democratic Party will look to pick up more seats. The ruling Mongolian People's Party controls 85 percent of seats in the 76-member legislature, and a motion to dissolve parliament needs at least a two-thirds majority.
The president is seeking to gain more power for his office within Mongolia's political system, according to Dale Choi, a market analyst and head of Altan Bumba Financial Group.
"All of these shows are to gain popularity with the electorate, to gain support among voters," he said.
Mongolia's statistics office estimated that the economy grew 6.3 percent in the first half of 2018 as the market for Mongolia's mineral exports improved. That compares with 5.1 percent last year.
Battulga rose to fame as a self-made millionaire who engaged in competitive martial arts. He is known as a political firebrand, openly criticizing the influence of establishment leaders he calls oligarchs as well as Mongolia's top trade partner, China.
Mongolia has a history with hunger strikes, which were used during protests in 1990 that led to a peaceful transition from Soviet socialism to democracy and a market economy.