Modi to Face No-Confidence Vote as Opposition Ramps Up Pressure
(Bloomberg) -- Prime Minister Narendra Modi's government faces a no-confidence vote on Friday as the opposition uses the new monsoon session of India's parliament to challenge his administration ahead of general elections early next year.
With a majority in India's 543-seat lower house of parliament, Modi's coalition is expected to defeat the no-confidence vote. But the opposition, including the Congress party led by Rahul Gandhi, will use the debate to pressure Modi on issues including women's safety, mob lynchings and the restive state of Jammu and Kashmir.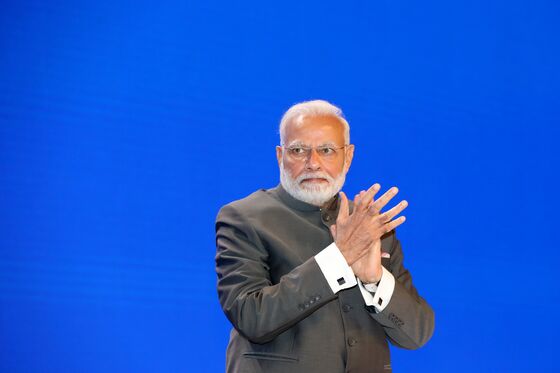 Read more: India Stocks Erase Gains as Government Gets No Confidence Motion
Since December, Modi's ruling Bharatiya Janata Party has faced numerous challenges, after a relatively smooth first couple of years in office. He narrowly won his home state of Gujarat in December with a wafer-thin majority, lost crucial by-elections in some states and failed to form the government after winning the most seats in Karnataka's state election in May.
He also lost two key regional allies in his ruling coalition: the Telugu Desam Party in Andhra Pradesh and the People's Democratic Party in Kashmir. Adding to his woes, Modi's other coalition partners are becoming unsettled, while opposition parties have begun to form alliances in an attempt to check his influence. He's also had to deal with a number of large protests by students, farmers and Dalits -- once known as 'Untouchables.'
On Wednesday as the latest session of parliament began, house speaker Sumitra Mahajan accepted notices demanding a no-confidence debate and vote from Congress party and Telugu Desam Party lawmakers.
Opposition parties had tried to push the no-confidence motion in the last budget session in March and April, but were prevented by the continuous disruption of the lower house of parliament, which frequently descends into shouting matches.
Parliamentary Affairs Minister Ananth Kumar said the government is ready to face the non-confidence motion -- and will win it, because of their majority.
A leader of the Congress party, Jyotiraditya Scindia, said the opposition will use the opportunity to raise the issues of women's safety and farmer distress.