Modi Opponents Seen Leading in India Polls Amid Covid-19 Mayhem
(Bloomberg) -- India Prime Minister Narendra Modi's party appears to be trailing in exit polls in key state elections that are seen as a barometer of his popularity amid the world's worst outbreak of Covid-19 infections.
As ballots drew to a close late Thursday in an electoral exercise that stretched over a month, voters in the battleground state of West Bengal look set to hand victory to the incumbent All India Trinamool Congress Party, according to most exit polls. Four other elections were also held, in the states of Assam, Tamil Nadu, Kerala and union territory of Puducherry. Ballots will be counted on May 2.
The coronavirus pandemic overshadowed the elections and has overwhelmed India's fragile health system, with daily infections topping 300,000 for the past week. Modi has come under increasing pressure as hospitals run out of beds, oxygen and even medical supplies in many parts of the country. The death toll has been mounting and images of crematoriums working non-stop have flooded newspapers, television and social media.
India's benchmark equity index fell Friday amid the exit polls and the extension of lockdown-like curbs in some states. The S&P BSE Sensex slipped 0.8% to 49,378.82, as of 12:23 p.m. in Mumbai, while the NSE Nifty 50 Index dropped 0.6%.
"With hundreds of thousands affected directly by the health crisis, and so many more impacted by the hit to their livelihoods, the BJP will not be able to avoid the blame," said Shumita Deveshwar, senior director of India research at TS Lombard. "His policies will now face greater scrutiny than ever before, making it a far harder challenge for him than it would have been had his government managed the Covid crisis better."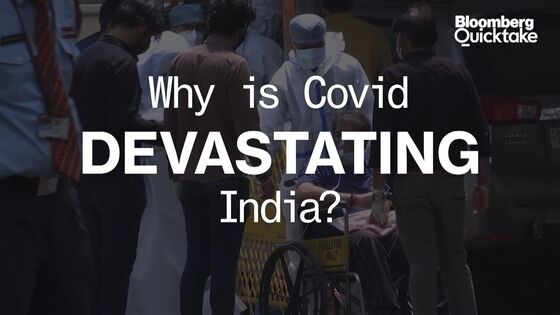 Modi's ruling Bharatiya Janata Party mounted a fierce campaign in West Bengal to unseat the regional leader Mamata Banerjee, one of his main challengers. He faced extensive criticism for addressing rallies that drew thousands of voters in the middle of a raging pandemic.
The BJP attempted to use these elections to expand the party's footprint in the eastern and southern parts of the country. Exit polls indicate it has retained power in northeastern state of Assam, where a religion-based citizenship act was a major issue. If confirmed, its victory there could further embolden the government to implement the controversial law across the country.
A coalition including a regional party and the main opposition Congress may win in Tamil Nadu, while a left-led alliance looked set to retain power in Kerala, exit polls showed.
"If the Trinamool Congress wins, Mamata will become the most important opposition leader in India," said Neelanjan Sircar, assistant professor of politics at Ashoka University and a senior visiting fellow at the New Delhi-based Centre for Policy Research. "She will have shown that she can craft a narrative to take on the majoritarian vision of the BJP."