Mnuchin Suggests Fed Rate Rises Are OK After Trump Attacked Them
(Bloomberg) -- Treasury Secretary Steven Mnuchin suggested on Sunday it was fine for the Federal Reserve to be raising interest rates, after his boss, President Donald Trump, recently criticized the central bank for doing just that.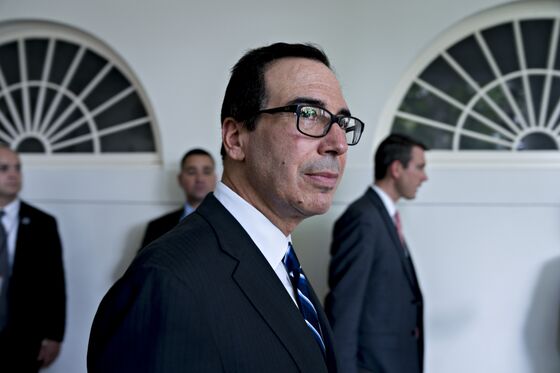 Mnuchin agreed in response to a question that it was responsible for Fed Chair Jerome Powell and his colleagues to be increasing rates as the economy grows faster and inflation picks up.
"The Fed has been targeting 2 percent inflation," Mnuchin said on "Fox News Sunday." "Obviously, with 2 percent inflation we have to have at least slightly higher interest rates to manage through that."
Powell and his fellow policy makers are widely expected to hold interest rates steady when they meet this week to map monetary strategy. In June, they raised their target range for the federal funds rate to 1.75 to 2 percent and penciled in two additional, quarter-percentage-point increases for the second half of this year.
Mnuchin's remarks follow a series of comments about the Fed by Trump that raised concerns among some economists about the central bank's ability to carry out monetary policy free of political interference.
In an interview with CNBC on July 19, Trump voiced frustration with the Fed for raising rates.
"I am not happy about it," the president said. "But at the same time I'm letting them do what they feel is best." Trump also called Powell, whom he appointed to succeed Janet Yellen, "a very good man."
Trump's remarks broke from more than two decades of White House tradition of avoiding comments on monetary policy, out of respect for the independence of the central bank and its dual goals of encouraging low unemployment and stable prices.
Mnuchin insisted that Trump respects the independence of the Fed, even though the president has "concern" about interest rates going up. "We as an administration absolutely support the independence of the Fed," Mnuchin said.
Noting that financial markets expect rates to keep rising, Mnuchin said, "The only question is how far and for how long" they'll increase.
"We think the Fed will be very careful in managing the economy," the Treasury secretary added.
Speaking separately on Fox's "Sunday Morning Futures," Vice President Mike Pence suggested that the central bank needed to avoid squelching the stronger growth the economy is experiencing.
"We don't want policies whether on Capitol Hill or elsewhere that diminish the tremendous energy we have in this economy," Pence said in a pre-recorded interview.
Both Pence and Mnuchin echoed Trump's enthusiasm about the U.S. economy after Friday's news that it grew at a 4.1 percent annual pace in the second quarter, the fastest since 2014.
The surge shows the U.S. is "well on the path" for four or five years of sustained annual growth of 3 percent, Mnuchin said -- an outlook at odds with many economists who see the pace of the expansion ebbing in 2020 and beyond.
The second quarter pick-up was propelled by consumer spending, business investment and a decline in the trade deficit. Yet as the effects fade from the tax cuts, economists expect growth to moderate, with forecasts showing it will come in around 3 percent in 2018. That would still make this year's performance the best since 2005.
"We are on track to be at 3 percent or better this year," Pence said.
While many economists agree that growth this year will be boosted by Trump's tax cuts, they are skeptical the economy can maintain that 3 percent pace over the longer term as aging Baby Boomers retire and drop out of the workforce.
The last time the economy enjoyed a sustained period of above 3 percent growth was in the late 1990s, when gross domestic product was goosed by a technology-driven surge in productivity under then-President Bill Clinton.