Mnuchin Says Turkey Faces More Sanctions If Pastor Not Released
(Bloomberg) -- Treasury Secretary Steven Mnuchin said the U.S. is ready to slap Turkey with more sanctions if President Recep Tayyip Erdogan refuses the quick release of an American pastor, escalating a diplomatic rift that has roiled global financial markets.
"We put sanctions on several of the Cabinet members," Mnuchin said Thursday during a Cabinet meeting at the White House. "We have more that we're planning to do if they don't release him quickly."
The lira pared gains Thursday following Mnuchin's remarks. The dollar and Japanese yen rallied.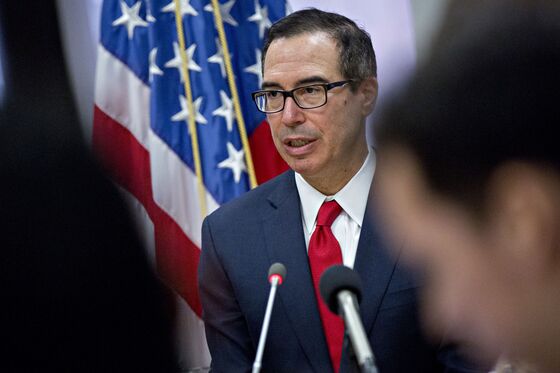 Mnuchin's remarks were prompted by President Donald Trump, who said Turkey has "not proven to be a good friend" to the U.S. Trump complained that his administration had secured the release of a Turkish citizen from an unnamed country on behalf of Erdogan, who didn't reciprocate by releasing pastor Andrew Brunson.
"We got somebody out for him," Trump said. "He needed help getting somebody out of some place, he came out. They want to hold our wonderful pastor. Not fair. Not right."
Trump was referring to his urging that Israeli Prime Minister Benjamin Netanyahu release a Turkish citizen, Ebru Ozkan, who'd been arrested in Israel on accusations of abetting Hamas, a person with knowledge of the matter said. Netanyahu did it, and Ozkan was sent back to Turkey on July 16.
Trump thought he had a deal for Brunson's release, an administration official said. Instead, Turkey moved the pastor to house arrest.
The president's frustration was signaled in a meeting between White House National Security Adviser John Bolton and Turkish Ambassador to the U.S. Serdar Kilic earlier this week.
Bolton flatly told the ambassador, who had requested the meeting to discuss the dispute, to release Brunson, according to the official.
Trump continued his barrage against the Ankara government on Thursday evening with a tweet: "Turkey has taken advantage of the United States for many years. They are now holding our wonderful Christian Pastor, who I must now ask to represent our Country as a great patriot hostage. We will pay nothing for the release of an innocent man, but we are cutting back on Turkey!"
The plight of Brunson has dominated the Trump administration's policy toward its NATO ally, even as the dispute shakes currency markets. Brunson, who Turkish officials say had links to a failed 2016 coup, is being held under house arrest. A lower court already turned down his lawyer's request to free him and the U.S. has said it won't negotiate until he's released.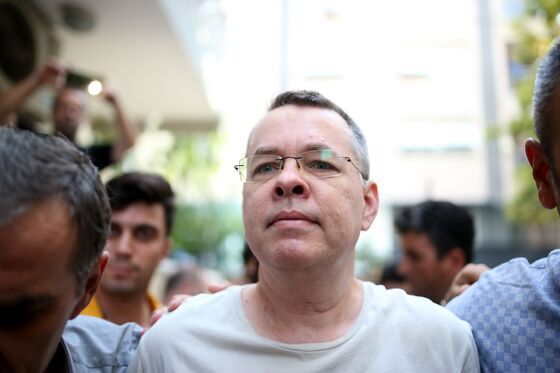 Erdogan has said the standoff would push Turkey to forge other alliances. His government said it would not comply with U.S. sanctions against Iran, a key oil supplier to Turkey.
He has also moved to shore up alliances in Europe and the Middle East, easing pressure on the battered lira, as the standoff with the U.S. has deepened. Efforts to rally support and bolster domestic markets included a call Thursday between Turkish Finance Minister Berat Albayrak and international investors.
Erdogan also spoke with French President Emmanuel Macron, a day after talks with German Chancellor Angela Merkel. While Berlin isn't offering any aid, the conversation reflects the stakes on both sides and Germany's sway as the biggest economy in Europe.
Germany wants Turkey to avoid a financial meltdown and can't allow the country to descend into chaos, according to a person familiar with Merkel's thinking who asked not to be identified. After a war of words over democratic values sent relations to a low point a year ago, Germany is also making an overture by hosting Erdogan for a state visit on Sept. 28.
Relations between Berlin and Ankara deteriorated as Erdogan consolidated power after the failed coup in 2016. Tensions escalated after Turkey detained a group of a human-rights activists and jailed a German journalist. Another dispute led Germany to withdraw troops from a NATO air base in Turkey. But Erdogan's overtures to Europe suggest he's prepared to mend ties in an attempt to weather the U.S. pressure.
A $15 billion pledge of support from Qatar will help Turkey buy time as it tries to contain double-digit inflation and a mass of foreign currency debt, investors say. But it won't replace the need for new policy. Qatar's pledge rewards Erdogan for standing by the gas-rich Gulf country against a Saudi-led boycott backed by Trump.
Turkey's effort to bolster its political alliances came in tandem with steps taken by authorities to support the banking system and curb short selling of the lira. The lira had lost as much as a quarter of its value within a matter of weeks after the U.S. sanctioned members of Erdogan's government. Albayrak on Thursday ruled out restrictions on movement of capital as a policy option, helping lift the currency before Mnuchin's remarks.