Mnuchin Says Strong Dollar Reflects Confidence in U.S. Economy
(Bloomberg) -- Treasury Secretary Steven Mnuchin called the strong U.S. dollar a "vote of confidence" in the U.S. economy.
"Part of the reason why the dollar is strengthened is a function of people's view of the U.S. economy and U.S. economic growth relative to growth around the world," Mnuchin said in a round-table interview at Bloomberg's Washington office on Tuesday.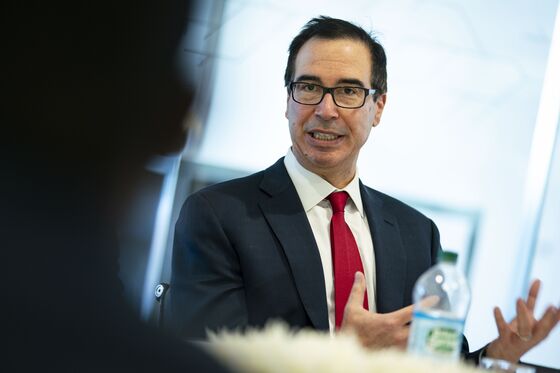 His remarks came about 11 months after he appeared to endorse a weaker U.S. dollar at the World Economic Forum in Davos, Switzerland -- comments that broke with tradition for the U.S. Treasury secretary and caused the greenback to extend what was then a slide in its value.
"Obviously a weaker dollar is good for us as it relates to trade and opportunities," Mnuchin said at the time, calling the currency's short-term value "not a concern of ours at all."
Trump and Mnuchin will return to Davos again next month, the White House said Tuesday. The Treasury chief will lead a U.S. delegation that includes Secretary of State Mike Pompeo, Commerce Secretary Wilbur Ross, and others.
Mnuchin said his remarks on the dollar in Davos last January were "reported somewhat out of context. Last year, I gave a comment, actually, that was intended to be a statement of fact and not a judgment."
Trump has noted that a strong U.S. dollar can weigh on exports in the short term and erode economic growth. The president on Monday called the currency "very strong" in a tweet and suggested it's one reason the Federal Reserve should refrain from raising interest rates this week.
Mnuchin declined to discuss the Federal Reserve or the state of the global economy, citing the central bank's ongoing interest-rate policy meeting this week.
The dollar has climbed against most of its major peers this year. The Bloomberg Dollar Index, which measures the U.S. currency against a basket of peers, has increased more than 4 percent year-to-date.
Global growth forecasts for next year are being trimmed due to the trade war between the U.S. and China and volatile 2018 market movements, as well as political uncertainty in Europe and the U.K.