Mnuchin Notes Ties to Saudis After Journalist's Killing
(Bloomberg) -- U.S. Treasury Secretary Steven Mnuchin emphasized the importance of the U.S.'s economic ties with Saudi Arabia, reinforcing the priorities the Trump administration set after Saudi journalist Jamal Khashoggi, a critic of the kingdom's leadership, was killed inside its Istanbul consulate.
"We have a longstanding relationship with Saudi that dates back to a long period of time," Mnuchin said to reporters in Jerusalem, the first stop on a six-country Middle East swing that will include a visit to Riyadh.
"We will continue in that relationship while we also simultaneously get to the bottom of what the facts are about the Khashoggi situation, which obviously is a terrible situation."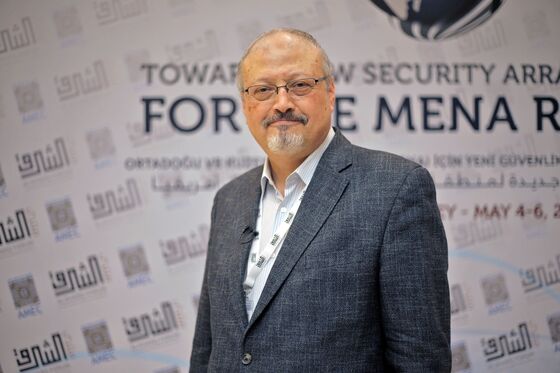 "We have an important relationship with Saudi focused on terrorist financing and focused on our common interests in stopping Iran's spread of terrorism and other issues," Mnuchin said.
The Treasury chief -- who has canceled his participation in a Saudi investment conference this week -- said that while the world seeks answers as to what happened to Khashoggi, "the information that's coming out is a good first step, but it's obviously not enough."
More than two weeks after Khashoggi disappeared, the kingdom acknowledged over the weekend that the Washington Post contributor was killed inside the consulate and characterized his death as accidental. That account conflicts with reports by Turkish officials that a Saudi hit team flew in specifically to kill and then dismember him, and a New York Times report that some members of the group had close ties to Saudi Crown Prince Mohammed bin Salman.
The killing has sparked bipartisan outrage in Congress over Saudi Arabia's role and over President Donald Trump's acceptance of the official account of his death, which other world leaders have questioned. Mnuchin said it would be "premature to comment on sanctions" related to the killing until "we've gotten to the bottom of what's occurred."
If Trump has a message for Saudi officials related to the investigation of Khashoggi's killing, Mnuchin said he will deliver it. He said discussions with the Saudis would focus on stopping terrorism financing.
Trump has strengthened ties with Saudi Arabia, which he sees as an essential player in advancing his Middle East policy. While some members of Congress are pressing him to hold the kingdom accountable, Trump says the incident shouldn't jeopardize U.S. weapon sales to Saudi Arabia or partnerships to confront Iran and develop a new Mideast peace plan.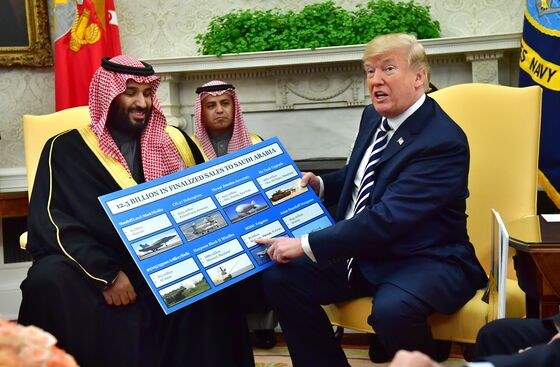 The president told reporters soon after the Saudi statement was published that "it's a great first step. I think we're getting close to solving a very big problem." Later Saturday, speaking to reporters in Nevada, he said it was a concern that Khashoggi's body is missing but reiterated that the journalist's killing shouldn't affect broader ties with the kingdom.
Killed After 'Discussions'
Reversing earlier denials of involvement in Khashoggi's disappearance on Oct. 2, Saudi authorities said Saturday an initial probe showed that he was killed after "discussions" at the consulate turned physical. Khashoggi died after he was placed in a choke hold, a person with knowledge of the Saudi probe said.
King Salman removed a top adviser to Prince Mohammed and prosecutors detained 18 people involved in the case. Trump said Saturday he would be talking to Prince Mohammed soon.
Mnuchin is spending the week in the region with visits including Qatar, Abu Dhabi, Jordan and Kuwait. The objective is to talk through enforcement of U.S. sanctions on Iran's oil industry, which go into effect Nov. 4. The Trump administration in May withdrew from a multi power nuclear agreement with Iran and is phasing in economic sanctions lifted under the 2015 accord signed during the Obama administration.