Zimbabwean Opposition Says President Treats Them Like Cockroaches
(Bloomberg) -- A leading Zimbabwean politician accused President Emmerson Mnangagwa of treating opposition supporters like cockroaches that need to be eliminated, evoking language used during the genocide of the Tutsi minority in Rwanda in 1994.
Tendai Biti, a senior member of the opposition Movement for Democratic Change, laid the blame for the most brutal suppression of urban protests in Zimbabwe since independence from the U.K. in 1980 on Mnangagwa. The former spy chief, known as The Crocodile, replaced Robert Mugabe in late 2017 after a military coup.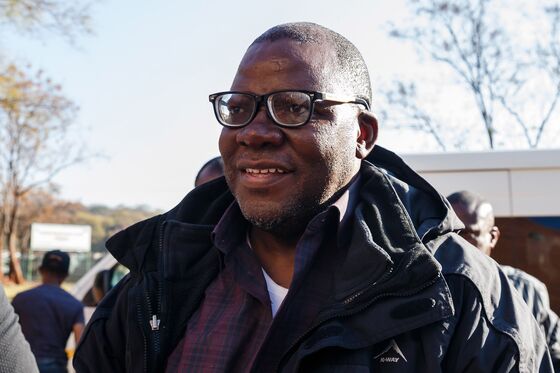 A crackdown by the military last month on protests -- sparked by the more-than-doubling of fuel prices overnight -- left at least 12 people dead. Most of them were shot, marking a departure from the approach taken during Mugabe's rule, when complaints of beatings, abductions and torture were common, but the use of live ammunition for crowd control was rare.
While the government has blamed the opposition for the demonstrations, which were called by trade unions, the MDC has denied responsibility.
Mnangagwa believes "we are cockroaches that must be crushed," Biti, 52, said in an interview in Johannesburg on Friday, adding that only Mnangagwa could have been responsible for the deployment of the military. "Mugabe was a restraining force to these bulldogs and the chief of these bulldogs is Emmerson Mnangagwa."
Biti, a former finance minister, says his family has been intimidated and he himself is facing charges after he said the leader of his party, Nelson Chamisa, won elections last year rather than Mnangagwa.
Shortly after those elections, Biti fled to Zambia. State agents tried to apprehend him while he was between the two countries' border posts, but he said he was rescued by bus loads of female informal vendors who beat back the agents. Zambia later returned Biti to Zimbabwe in what he says was a breach of international law.
Biti says 48 members of parliament from his party, the country's biggest opposition group, have been harassed since the protests and 1,200 people have been arrested. Reports of women being raped by soldiers are common and "unprecedented" and the military is still deployed across the country.
Six calls to Mnangagwa's spokesman, George Charamba, weren't answered and Information Minister Monica Mutsvangwa and her deputy were said to be unavailable. The Zimbabwe Defense Forces press office didn't answer six calls to its Harare office.
Biti, a lawyer by training, dismissed reports of a rift between Mnangagwa and Vice President Constantino Chiwenga, the former commander of the armed forces who led the coup. He said he doesn't believe the president was genuine when he publicly condemned the use of excessive force by soldiers.
"Everything that is happening has the ugly fingerprints of Emmerson Mnangagwa," Biti said.
The protests come amid an economic collapse, with inflation surging and goods such as fuel and bread periodically scarce. State doctors struck over pay and teachers have currently withdrawn their services because of a dispute over salaries. Over the past two decades, up to a quarter of the country's population has emigrated.
Zimbabwe's neighbors, the countries that make up the Southern African Development Community, have said little to condemn the protests and Mnangagwa is banking on their reluctance to intervene, he said.
"It's almost as if the regime is saying to Zimbabweans, and to the international community and to the regional community, we dare you and there's nothing you can do to us," Biti said.
While the number of deaths last month and the six people killed in post-election demonstrations last year are unusual for Zimbabwean urban protests, more brutal crackdowns in rural areas are not. In the mid-1980s, when Mnangagwa was state security minister, 20,000 people from the Ndebele minority were massacred in the rural south and in election-related violence in 2008 the MDC said 300 of its supporters were killed, mostly in rural areas.
The deaths also pale in comparison with Rwanda, where an estimated 800,000 people lost their lives.
Biti has been active in politics since the MDC first competed in elections in 2000. As he left the Johannesburg restaurant where he was being interviewed, an affluent Zimbabwean businessman stopped him and thanked him for "what you have done" for Zimbabweans.