Greek Prime Minister Says Turkey-Libya Deal Is Unacceptable and Illegal
(Bloomberg) -- Turkey's maritime border agreement with Libya is unacceptable and illegal, Greek Prime Minister Kyriakos Mitsotakis said, amid growing tension in the eastern Mediterranean.
"Turkey has been difficult to deal with," Mitsotakis said in an interview with Bloomberg in Davos Thursday. "There's a constant state of provocation, which leads Turkey nowhere."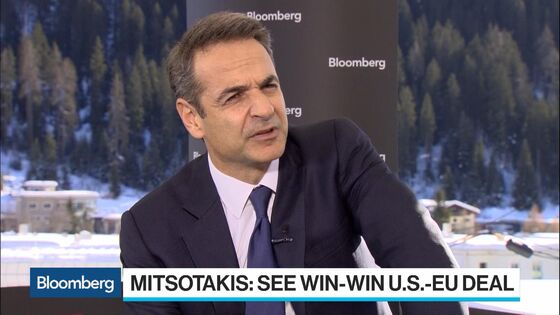 The premier, who's focused on bringing the country back from a crippling economic crisis since he took office in July, has been waylaid by smoldering geopolitical tensions in the east Mediterranean.
Long-contentious relations with neighboring Turkey soured further in November when Ankara signed a maritime agreement with Libya in a bid to solidify claims to waters off the coast of Greece and Cyprus.
"We don't need Turkey's permission," to be able to supply Europe with Cypriot, Israeli or potential Greek gas, Mitsotakis said earlier in Davos. The pact signed by Libya and Turkey has an impact for the planned EastMed pipeline project, he said.
Turkish President Recep Tayyip Erdogan is now threatening to start drilling for natural gas in the maritime area Greece claims as its own under international law.
Libyan Commander Khalifa Haftar's visit to Athens last week ahead of a summit in Berlin only raised the stakes, with Turkey accusing Greece of sabotaging the Libya peace process.