Mike Rounds Stands Up to Trump After Declaring Election Was Fair
(Bloomberg) -- Senator Mike Rounds defended his comments that Donald Trump lost the 2020 election in the face of criticism from the former president and called on fellow Republicans to reject false claims of voter fraud or risk losing future elections.
Trump attacked Rounds, a South Dakota Republican, in a statement on Monday as a "weak and ineffective leader" and RINO -- Republican in Name Only -- after Rounds said Sunday on ABC's "This Week" that the 2020 presidential election was "as fair as we have seen." 
Trump vowed never to endorse Rounds again.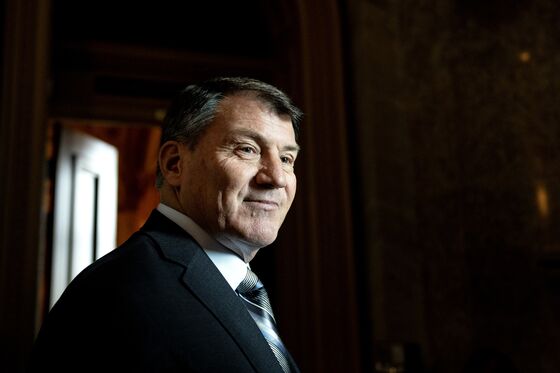 Rounds, who was re-elected to a second six-year term in 2020, responded in a statement later Monday saying he was "disappointed but not surprised" by Trump's reaction.
"I stand by my statement. The former president lost the 2020 election," Rounds said. "This isn't new information. If we're being honest, there was no evidence of widespread fraud that would have altered the results of the election."
Rounds added that the U.S. needs "responsible, conservative, disciplined leadership" in the White House to deal with inflation and other problems, and that Republicans focusing on the 2020 election won't help the party.
"Elections are about growing support for your party, not further dividing it," Rounds said in his statement. "Attacking Republicans certainly isn't going to result in a winning formula. Neither is telling citizens not to vote. If we are going to win in 2022 and 2024, we have to move forward together."
Trump has teased that he plans to run again in 2024 and is endorsing candidates loyal to him in 2022 races. At the same time, he continues to falsely claim that the 2020 election was stolen. Polls show a majority of Republicans agree with him, prompting concerns by some in the party that it could depress GOP turnout in future elections.
Rounds said that nearly all of his Senate Republican colleagues acknowledged Trump's defeat last January when they voted to accept Electoral College votes for President Joe Biden.
He also pointed out that then-Vice President Mike Pence refused to reject the legally certified votes for Biden from key battleground states, as Trump demanded. In the face of a mob chanting "hang Mike Pence" during the Jan. 6 riot at the U.S. Capitol, Pence accepted the results and has said he fulfilled his constitutional duty.
Pence, Rounds said, "acted with integrity. It's time the rest of us do the same."
Senator Mitt Romney, a Utah Republican, tweeted support for Rounds on Monday after Trump's criticism. Romney, who has had several run-ins with Trump himself, noted that the South Dakota senator and others in the GOP have accepted Biden's victory and that "Mike Rounds speaks truth knowing that our Republic depends upon it."
Asked why he decided to respond to Trump, Rounds said, "Requests were made to respond, and I thought it was appropriate."