Midterm Vote May Turn on Fiery Trump Rhetoric
The U.S. midterms were always going to be viewed as a referendum on Donald Trump's presidency.
But with one week to go, they're becoming a test of public opinion on the president's fiery rhetorical style following a spate of deadly, politically tinged violence that has stunned the nation.
The Democrats' bid for a house majority hinges on dozens of races that are too close to call and the attacks have sharpened the partisan divide. Anna Edgerton writes: Trump's critics accuse him of emboldening the perpetrators, his defenders say that's ludicrous.
With his approval rating plunging, the president is appealing to his base with a plan to end citizenship rights for U.S.-born children of undocumented migrants, the latest escalation of his hard-line immigration stance.
Trump himself blamed the news media for fostering hate – cable network CNN was a target of last week's attempted pipe bombings – and yesterday revived his characterization of the press as an "enemy of the people."
Retiring Republican Representative Ryan Costello summed up the state of affairs this way: "Every tragedy is a new opportunity for each side's extremes to blame the other."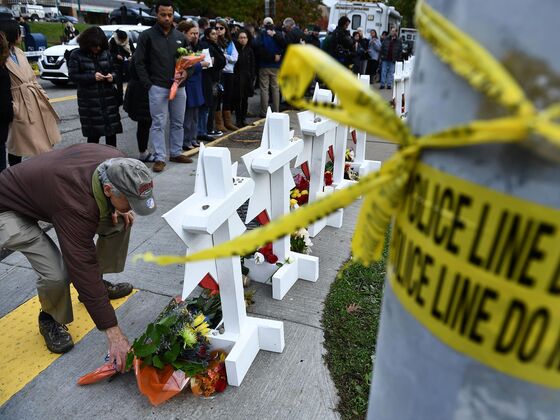 Tariff threat | The U.S. is preparing tariffs on all remaining Chinese imports if talks next month between presidents Trump and Xi Jinping fail to ease the trade war, Jenny Leonard and Jennifer Jacobs report. Trump later told Fox News he could still make a "great deal" with China. Officials in Beijing weren't impressed, saying China wouldn't bow to tariff threats and the U.S. should get serious.
Saudi heat | Trump has said little about Saudi Arabia's role in the Oct. 2 murder of U.S. resident and insider-turned-government critic Jamal Khashoggi since being briefed by CIA Director Gina Haspel last week. But his administration is raising pressure on the kingdom to wind down its political and economic isolation of Qatar and its widely criticized war in Yemen, Jennifer Jacobs and Alaa Shahine exclusively report. To read about Iranians trying to exploit the crisis here.
Life without Merkel | Angela Merkel is starting her retreat from front-line politics when her allies need her more than ever. As Tony Czuczka, Patrick Donahue and Arne Delfs report, Italy is unstable, Britain is leaving the bloc and populists are conspiring to reshape the continent's politics in EU elections next year. There's also the challenge of maintaining sanctions against Russia and keeping the peace in the Balkans. With Europe facing life without its political anchor, the single currency fell.
Nordic knot | Almost two months after an inconclusive election, Sweden is still without a new government. The two biggest parties have both failed to piece together majorities, prompting the speaker to take over the process yesterday in attempt to push them into a grand coalition. The nationalists, who finished third in September, are watching from the sidelines and say they have no fear of another vote.
Puncturing confidence | Andres Manuel Lopez Obrador ditched a $13 billion airport backed by some of Mexico's wealthiest businessmen after voters rejected it in a referendum. The project is more than a third finished. Stocks, bonds and the currency fell signaling the honeymoon may be over for the leftist president, who had calmed investors with his initially market-friendly approach – a month before he's finally inaugurated.
It's the fourth and final day of a march of thousands of Shiites to the Nigerian capital to protest the almost three-year detention of their leader - that demonstration was marred by violence yesterday when troops opened fire on its members, killing several.
Trump's legal team has prepared written responses to several dozen questions from Special Counsel Robert Mueller but won't submit them until after next week's elections – and only if they reach a broader accord on terms for the questioning.
And finally… In a small town in southern France, scientists funded by 35 countries are racing a bunch of U.S. tech billionaires to replicate the workings of the sun. The $23 billion project aims to develop a commercially viable nuclear fusion reactor, potentially a source of clean, almost limitless energy. The team reckons they'll need another 30 years. A rival with $50 million from investors including Bill Gates and Jeff Bezos aims for a prototype by 2025. "It's the story of the tortoise and the hare and we're the tortoise," says Tim Luce, chief scientist at the French center.