Midterm Reckoning on Trump Sets Stage for 2020
The president capped a furious, 11th-hour campaign blitz on behalf of fellow Republicans last night by announcing his own 2020 re-election slogan — "Keep America Great" — a nod to how quickly attention will turn to the next presidential race once results are in.
In addition to determining control of Capitol Hill, the ballot will mark the first chance for voters to speak their minds since Trump's surprise victory in 2016.
Democrats need a net gain of 23 seats for a House majority. The Senate is viewed as a more difficult get because this year's electoral map heavily favors Republicans. Signs are that enthusiasm is running high among the 236 million Americans eligible to vote, with more than 34 million casting their ballots so far, shattering records in some states.
For Democrats — the odds-on favorite to win control of the House — the stakes couldn't be higher. A majority would give them the power to pursue investigations of Trump and thwart his legislative agenda.
Falling short of their goal would be a crushing blow that could severely hobble their party and would surely further embolden the president.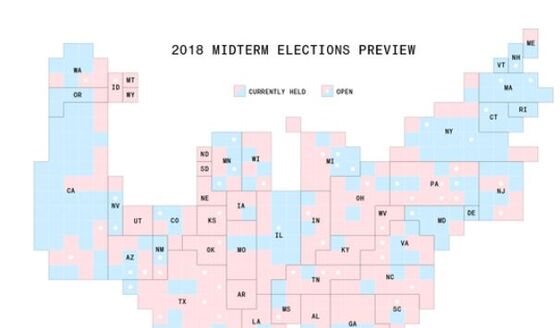 Cold War worries | Chinese Vice President Wang Qishan's new offer of U.S. trade talks did little to assuage concerns at Bloomberg's New Economy Forum in Singapore that the world's two largest economies are headed for a dispute that shakes the global order. Wang's warning in a speech China wouldn't be "bullied and oppressed" underscored the rising nationalism in both countries. As if the Cold War overtones weren't obvious enough, Marc Champion writes that Trump's trade fight is rekindling China's relationship with Russia.
Avoiding catastrophe | Henry Kissinger, the 95-year-old former U.S. Secretary of State, says he's "fairly optimistic" the U.S. and China can avoid a wider confrontation. Speaking at Bloomberg's New Economy Forum, Kissinger said, "if the world order becomes defined by continuous conflict between the U.S. and China, sooner or later it risks getting out of control." Follow Twitter, Facebook and LinkedIn for all the latest news from the forum.
Brexit endgame | Prime Minister Theresa May convenes a Cabinet meeting on Brexit this morning, likely focusing on the vexed question of how to avoid customs checks at the Irish border. It's just one aspect of a potential deal but has held up progress for months. May is still hoping to get an agreement with the European Union by the end of the month, but she needs ministers on board. It's not at all clear they will be.
Male domination | There's a glaring omission in Brazilian President-elect Jair Bolsonaro's 27-member transition team: women. While he has the right to name as many as 50 people and is focusing on experts in infrastructure and economics, prospects for breaking the male stranglehold on the top positions aren't bright. In this year's general elections, women took only 15 percent of seats in the lower house despite making up half the population.
Base appeal | Trump claimed yesterday "the accuser" who alleged sexual misconduct by Supreme Court Justice Brett Kavanaugh had recanted. Although the president never named the woman, his remarks left the incorrect impression that Christine Blasey Ford, who publicly testified that Kavanaugh sexually assaulted her at a party while they were in school, had changed her story. Polling has indicated the confirmation process energized the Trump faithful.
The EU recalled its ambassador in Tanzania for consultations, citing a worsening human-rights situation in the East African nation, where the regional commissioner for Dar es Salaam announced a crackdown on homosexual, bisexual, and transgender people is to begin this week.
And finally … Plans for Trump and Vladimir Putin to have full-fledged talks in Paris on Sunday have been downgraded to a brief encounter – the two leaders will just "cross paths" in the French capital, according to Kremlin spokesman Dmitry Peskov, after Trump said he will "probably not" meet Putin on the sidelines of centenary commemorations for the end of World War I. Both said talks in Buenos Aires at this month's Group of 20 summit are definitely still on.