Midterm Preview, Sri Lanka's Strongman and Merkel: Weekend Reads
(Bloomberg) --

It's crunch time for the U.S. midterm elections, with Democrats optimistic that they can retake the House but facing an uphill battle for the Senate. In the last week before voting, President Donald Trump took steps to energize his base, including pledges to eliminate "birthright citizenship" and deploy troops to the border with Mexico, as well as saying China might want to reach a deal on trade.  

There's a succession battle raging for the top spot in Germany's ruling party after Angela Merkel unexpectedly said she'd step aside. We also had great coverage of an authoritarian ruler sweeping back into power in Sri Lanka, and how Ireland's government is doing more to help prepare British businesses for Brexit than the U.K.'s.

We hope you enjoy reading more about these and our other best stories from the past seven days in this edition of Weekend Reads.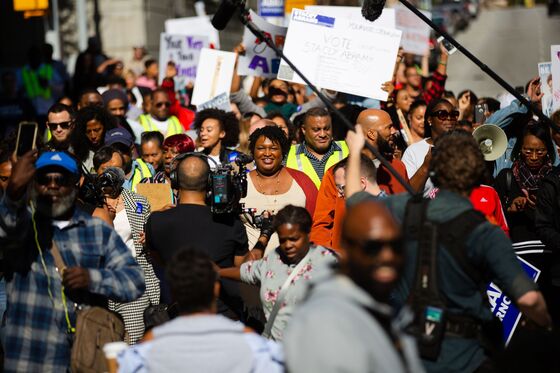 Where the 2018 Race Stands Days Before Vote: Election Countdown
The biggest political test of Trump's presidency comes Tuesday in House and Senate elections that will determine whether his Republican Party keeps control of Congress for the next two years. Joe Sobczyk provides a look at Bloomberg's reporting in the runup to the vote as the president appeals to his base with intensified attacks against immigrants and Democrats.

Haley's Exit Leaves UN Fretting About Next 'America First' Envoy
Trump's "America First" rhetoric was never popular at the United Nations, but as David Wainer reports, officials there are worried they're losing a critical ally as his ambassador, Nikki Haley, prepares to depart. Haley's ability to deliver Trump's agenda while also forging a partnership with Secretary-General Antonio Guterres will be a hard act for any successor to follow.

Trump's Success in Isolating Iran Can Be Seen on a Dubai Menu
Anyone wanting to gauge Trump's impact on Iran would do well to study what's on offer at Maryam Sharifi's restaurant. As Ladane Nasseri writes, Iranian businessmen are leaving Dubai as links with the Islamic Republic are slowly severed, forcing her to shift from Persian favorites like kebabs to pasta and biryani to appeal to appeal to a wider crowd.

Want to Know How to Plan For Brexit? Don't Ask Britain
With the U.K.'s divorce from the European Union approaching, ministers are urging businesses to prepare, with leaflets, loans and a website spelling out what companies must do. But as Robert Hutton explains, the government doing all this is Ireland's. The British side is doing rather less – no tote-bags, no website and no mention of Brexit on its front page.

Saudi Prince Starts to Pay Political Price for Khashoggi Murder
Fallout from the murder of Saudi critic Jamal Khashoggi is mounting for the kingdom's young leader. Donna Abu-Nasr and Alaa Shahine report that Crown Prince Mohammed bin Salman is starting to look dangerous to western leaders who once feted him, and the U.S. is signaling that its position is shifting on explosive issues like the war in Yemen and the crisis with Qatar.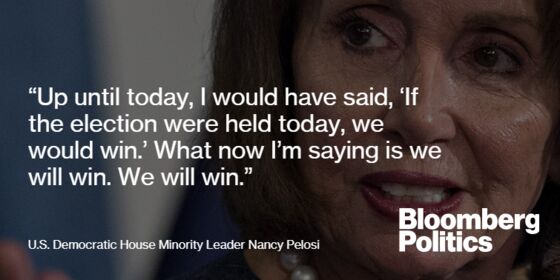 Merkel 2.0 vs Germany's Old Guard: Succession Battle Takes Shape
Take a closer look at the rivals vying to succeed Angela Merkel as the leader of Germany's Christian Democrats. In one corner is the chancellor's chosen heir, Annegret Kramp-Karrenbauer, a low-key moderate known as "mini-Merkel." In the other is socially conservative Friedrich Merz, a BlackRock Inc. executive who's looking for payback after Merkel pushed him aside as opposition leader more than a decade-and-a-half ago.

How Long Will World Leaders Be in Power? Here's a Reality Check
With Merkel stepping aside, French President Emmanuel Macron's popularity slumping and the backlash over Khashoggi's killing, it's natural to ask how long world leaders will stay in power. Ben Sills and Patricia Suzara dig into analyst forecasts, public opinion, economic performance and local factors to give us an updated outlook on how long heavyweights from Trump to Vladimir Putin and Kim Jong Un might stay on.

Bolsonaro Saves Brazil or Fails Badly: Two Possible Scenarios
Jair Bolsonaro, Brazil's president-elect, is divisive, has no executive experience and says he knows nothing about economics, so healing a deeply divided nation and putting Latin America's largest economy back on track is a gargantuan task. Raymond Colitt looks at scenarios in which things may unfold reasonably well under the former paratrooper and those where it all goes wrong.

Sri Lanka's Strongman Is Back, and He's Brought His Family Too
Mahinda Rajapaksa's surprise return to the prime minister's office has stunned everyone from economists who worry he may renege on debt payments to activists concerned about civil liberties in a country still recovering from a 26-year civil war. Iain Marlow and Anusha Ondaatjie report how Rajapaksa's clan is manoeuvring  to once again dominate politics in in the Indian Ocean nation.

And finally…  Tattoos, DNA and scars are vital clues used to identify the thousands of people who are buried anonymously in South Africa each year. As Pauline Bax reports, most are believed to be migrants who've come to Africa's most industrialized nation for work, and dealing with their remains is becoming a burden on the state.