Joe Biden Wins New York, Kentucky Primaries: Campaign Update
(Bloomberg) -- Joe Biden won Democratic presidential primaries in New York and Kentucky on Tuesday, the Associated Press reported, pro forma victories that come more than two weeks after the former vice president accumulated enough delegates to clinch the nomination.
New York had initially canceled its primary in response to fears about the coronavirus, but a federal appeals court last month ordered state Democratic officials to hold the vote on June 23 after presidential candidate Andrew Yang had challenged the cancellation.
Even though all the contenders for the nomination except Biden have dropped out, the ballot featured 10 candidates. Yang and Senator Bernie Sanders both hope to reach the threshold of 15% of the vote needed to garner delegates that will allow them to have an influence over the party platform at the convention in August.
Both former candidates have endorsed Biden.
A surge of absentee ballots means New York residents may have to wait a week to learn the outcome of some high-profile primary face-offs, including Representative Eliot Engel's bid to retain his seat against Jamaal Bowman, a progressive backed by Senator Elizabeth Warren of Massachusetts and Representative Alexandria Ocasio-Cortez, a fellow New Yorker.
Michigan Pocketbooks Were First Hit By Covid-19 (10:43 a.m.)
The Covid-19 pandemic may have hit hospital rooms in coastal states first and hardest, but pocketbooks in Michigan, a key electoral battleground state, were the first to empty out from its economic ripple effects.
New data from the Bureau of Economic Analysis Tuesday shows that personal incomes in Michigan shrunk 0.3% in the first quarter of the year. The slowdown came mostly from a $1.6 billion decline in manufacturing earnings as demand for goods slowed and social distancing measures halted assembly lines in the last half of March.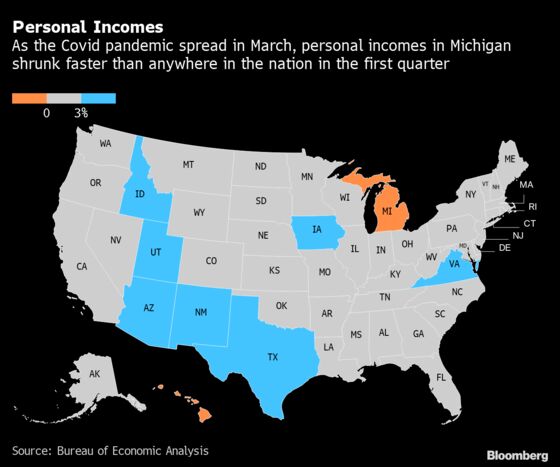 Michigan is one of the states President Donald Trump won in 2016 that he will be fighting to hold onto in November.
Paychecks in Michigan shrunk 3.2%, offset partially by a 5.6% increase in government benefits — less than any other state.
Democrat Joe Biden leads Trump 49.8% to 41.8%, according to the RealClearPolitics average of Michigan polls. -- Gregory Korte
Miami Picked to Host Second Presidential Debate (8:29 a.m.)
The second presidential debate between Donald Trump and Joe Biden will be relocated to a performing arts center in Miami after the event's original host -- the University of Michigan at Ann Arbor -- pulled out due to concerns about the coronavirus pandemic.
The Oct. 15 town-hall style debate will be held at the Adrienne Arsht Center for the Performing Arts of Miami-Dade County, the Commission on Presidential Debates announced Tuesday. Michigan's decision to abandon hosting duties was reported by the Detroit Free Press, and came as the university announced its plans for limited in-person classes in the fall.
The venue change comes as Trump has sought to pressure Biden to hold a fourth debate, announcing last week that he was asking his personal attorney, Rudy Giuliani, to negotiate an additional session. Biden's campaign has said he will participate in the traditional three debates, and accused Trump of an effort to create a distraction by floating an additional contest.
In addition to the event in Miami, the two candidates are expected to meet on Sept. 29 at the University of Notre Dame in South Bend, Indiana, and on Oct. 22 at Belmont University in Nashville, Tennessee. Vice President Mike Pence will meet his still-unknown Democratic challenger Oct. 7 at the University of Utah in Salt Lake City. -- Justin Sink
The Democratic National Convention is scheduled for the week beginning Aug. 17 in Milwaukee, while the Republicans are slated to meet a week later with events in Charlotte, North Carolina, and Jacksonville, Florida.