Mexico's New President Set to Test Skittish Market With Budget
(Bloomberg) -- President Andres Manuel Lopez Obrador is expected to announce a surge in spending this week, adding to the stress that's spurred a rout in Mexican assets.
Just two weeks after assuming office, Lopez Obrador will probably unveil budget plans to increase expenditure on pensions, education and infrastructure projects at a time when falling oil prices are already crimping fiscal revenue, according to proposals from the new administration. It will all be financed by a cost-cutting campaign that many investors suspect is just wishful thinking. The new president plans to send Congress his proposal for next year's budget on Saturday afternoon, according to his party's lower house coordinator.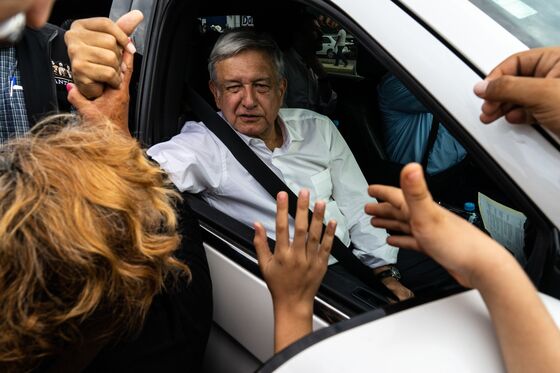 Bigger-than-expected spending increases or forecasts for a narrower primary budget surplus could prompt renewed declines in the peso, which slumped in the run-up to leftist's election on July 1 and then rallied as he looked to appease markets. Now investors are on edge again and they will go through the cost-cutting plans with a fine tooth-comb to see if the new government can deliver on its promises to reduce the debt burden.
Perhaps most important to see will be "whether they overly rely on savings from efficiency gains," said Edwin Gutierrez, a money manager at Aberdeen Asset Management in London. "Those always disappoint."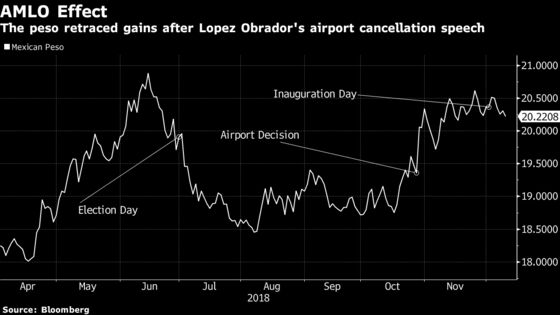 Foreigners withdrew more than $20 billion from Mexican stocks and bonds in the two months ended Nov. 30 as Lopez Obrador took a less market-friendly approach, almost the amount that flowed in over the two years to Sept. 30, according to Bloomberg data.
"The Mexican peso could be even weaker if the budget comes not as expected or if there's slippage during the year in the implementation," said Ernesto Revilla, the head of Latin American economics at Citigroup Inc., who worked as chief economist and helped craft the Finance Ministry's budget proposals under Lopez Obrador's predecessor.
The most important number investors will watch is the projected primary balance, which excludes payments on the national debt. Mexico posted its first primary surplus in almost a decade last year following government efforts to cut spending. That helped safeguard the nation's credit ratings from a potential downgrade.
New Finance Minister Carlos Urzua has promised to broaden the surplus from this year's projected 0.7 percent of gross domestic product to 1 percent.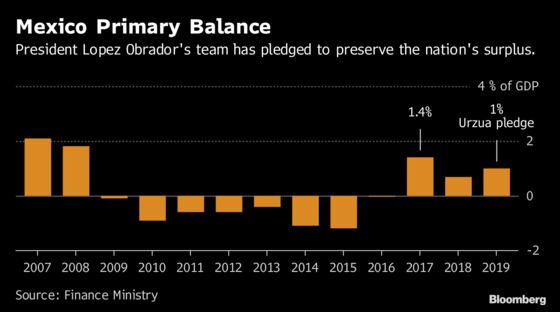 The money for that will come from the consolidation of various social programs, the elimination of waste and an anti-corruption drive, which Lopez Obrador said during the campaign would save as much as 500 billion pesos ($24 billion) a year.
Lopez Obrador roiled markets even before taking office by canceling a partially-built Mexico City airport, sending the peso, stocks and bonds tumbling. While he has repeatedly promised budget prudence, Eurasia Group wrote this week that it expects Lopez Obrador to prioritize his social spending and development plans over fiscal responsibility.
The new president has committed to several expensive projects including a tourist train in the Yucatan Peninsula and a new $8 billion oil refinery. He has also promised 120 billion pesos for pensions and more than 35 billion pesos in student scholarships.
At least the economic assumptions underpinning next year's budget -- including growth, inflation, the exchange rate, oil production, and crude and gasoline prices -- may be more realistic than the cost savings.
Lopez Obrador said last week that he will adopt the same economic projections as the central bank. That will come as a relief to some investors, who were alarmed by Urzua's comments days after the election that he expected inflation to be 4 percent to 5 percent next year at a time when the Banco de Mexico board was expecting it to slow toward 3 percent.
Budget assumptions about oil prices will also be carefully scrutinized by investors. Flat crude prices could put pressure on revenues from state-run oil company Pemex, which have helped prop up the country's budget in the past. Fuel prices have sold off sharply since October. While Mexico reduced its dependence on oil revenue for public spending via a 2013 overhaul, crude still generates about a fifth of public funding.
As long as the new administration can keep the primary surplus in line over the next year, markets will be assuaged.
"It'll take more than a mushy budget to convince investors the wheels are coming off," said Ilya Gofshteyn, a strategist at Standard Chartered in New York. "There will undoubtedly be fiscal slippage in the medium to long-term, but that is a problem for another day from a market standpoint."