Mexico Traders Bet Rates to Rise Much More Than Officials Signal
(Bloomberg) -- Traders are betting Mexico's central bank will continue to fight inflation aggressively after it unexpectedly increased interest rates following a pickup in prices.
After Banco de Mexico raised its key rate to 4.25% in a split decision, rates traders are now betting that more aggressive increases are coming, with around 131 basis points of tightening priced in on top of the quarter-point hike the bank implemented Thursday. And the next quarter-point hike could come as soon as August, according to market pricing.
Banxico, as the central bank is known, is battling unexpectedly strong price pressures, with the inflation rate climbing above 6% in early June, a faster-than-expected number released just hours before the rate announcement. While the increase surprised all 23 economists surveyed by Bloomberg, the move was supported by three of its five-member board, with the other two voting to leave the rate unchanged.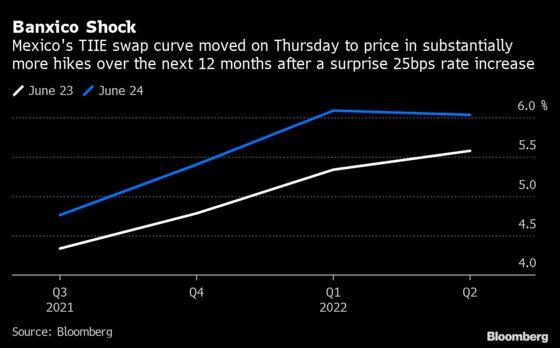 The monetary authority also refrained from committing to additional increases, saying subsequent decisions will be data driven and depend on the evolution of prices.
"Considering the current balance of risks, it will be hard not to deliver further hikes in coming decisions, which is one of the reasons why the curve will most likely price in an even more aggressive tightening cycle ahead, at least in the short term," said Claudia Ceja, a strategist at BBVA in Mexico City.
The Mexican peso rallied as much as 2.4% after the announcement, leading emerging-markets currency gains Thursday. The peso rose again on Friday and is headed for its biggest weekly advance in more than a year. Swap rates, which have already been advancing over recent weeks on the back of higher inflation and tightening expectations, also got an extra boost from the decision, with the two-year benchmark climbing close to half a percentage point on the day to reach 6.19% on Thursday.
What Bloomberg Economics Say
We expect inflation to start falling in the third quarter, in line with abating transitory shocks, favorable base effects and weak domestic demand. This would be enough for the central bank to hold its policy rate at 4.25% this year. Any evidence that inflation remains high and above official projections is likely to result in further rate hikes.

The unexpected decision could strengthen Banxico's credibility. It is likely to help anchor inflation expectations, support the peso and bring additional curve flattening.

-- Felipe Hernandez, Latin America economist

-- Click here for the full report
"Although the shocks that have affected inflation are expected to be of a transitory nature, given their variety, magnitude, and the extended time frame in which they have been affecting inflation, they may pose a risk to the price formation process," Banxico's board said in the statement accompanying the announcement. "Looking ahead, monetary policy implementation will depend on the evolution of the factors that have an incidence on inflation, on its foreseen trajectories within the forecast horizon, and on its expectations."
The unexpected speed of the price increases are explained by pandemic-driven shocks in supply chains and economic output, it said, adding that a drought affecting Mexico also put pressure on agricultural and livestock prices. The bank now estimates headline inflation to converge to the 3% target during the third quarter of next year, a quarter later than previously forecast.
"The move opens the possibility of another 25 basis-point hike," said Gabriela Siller, director of economic analysis at Grupo Financiero BASE. "If inflation continues above 5% and above long-term expectations, we could see another hike."
Joan Domene, a Mexico City-based economist for Oxford Economics Ltd., sees a faster tightening cycle, with Banxico making quarter-point increases in each of its board meetings until December, leaving the reference rate at 5.25% by year end, according to a research note.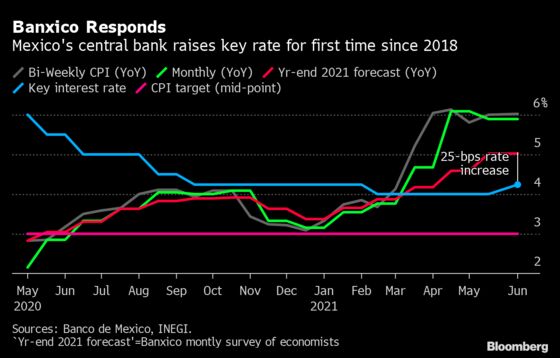 With Thursday's announcement, Mexico joins a growing group of countries including Brazil, Russia and Turkey that boosted their borrowing costs this year as the exit from the worst of the pandemic leads to higher price increases amid an economic recovery.
In Brazil, Latin America's largest economy, traders now expect the central bank to lift borrowing costs by at least 100 basis points in August following three straight hikes of 75 basis points, eventually propelling the Selic over 7% by year-end. And Chile signaled this week it's ready to raise its benchmark rate from a record low as soon as July.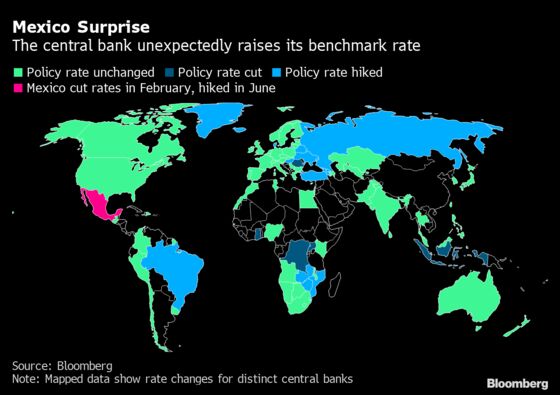 Banxico's decision also ends a monetary easing cycle that started in August 2019, comprising a 425 basis-point reduction in the reference rate. The conditions have changed compared to last year as the economy is now growing and inflation is double the bank's goal, Jonathan Heath, one of the bank's board members, said.
"It's not the same monetary position," he wrote on a Twitter post.
Mexico's economy shrank 8.2% last year, the most in almost a century, and the bank's easing has provided the only substantial form of economic stimulus during the crisis as the government maintained an austere fiscal policy. The economy has rebounded faster than expected so far in 2021, adding to inflationary pressures, with the bank projecting 6% growth for the year.
Annual inflation peaked in April at 6.1% and has barely eased since then. On top of supply shocks, prices have also been driven up by healthy demand from the U.S., Mexico's main trading partner.
Banxico, as the central bank is known, targets inflation at 3%, plus or minus 1 percentage point.
Thursday's decision is the first since President Andres Manuel Lopez Obrador nominated Finance Minister Arturo Herrera to become Banxico governor when current leader Alejandro Diaz de Leon steps down at the end of the year.
Further rate increases will depend on how inflation behaves, according to Alonso Cervera, chief Latin America economist at Credit Suisse Group AG.
"If inflation turns out to be temporary, the central bank may be on hold. If inflation continues to be higher than the market expects, then we should continue to see more rate hikes," he said. "It's all very uncertain for the bank, for the market, for analysts. These are unprecedented times, and the central bank showed it today."