Mexico's AMLO Rises in Opinion Poll Despite Low Marks on Economy
(Bloomberg) -- Andres Manuel Lopez Obrador's approval rating is rising as he completes two years in Mexico's presidency, even as he scored low marks in several key categories including the economy and security.
The popularity of AMLO, as the president is known, rose to 61% at the end of November from 56% in August in the face-to-face opinion poll by Reforma newspaper published Tuesday. Yet 56% said he hasn't fulfilled his promises for improving the economy and 66% said he hasn't reduced crime. The president also got more negative marks than positive in his efforts to fight corruption, combat the coronavirus and increase family income.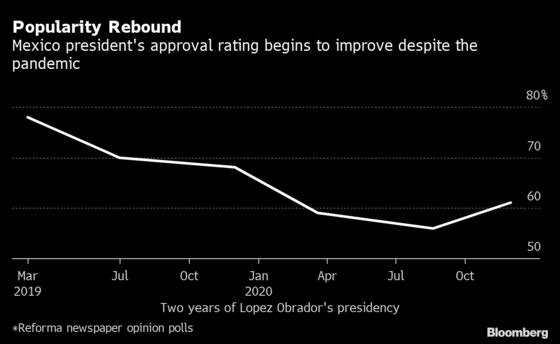 Lopez Obrador's administration is facing this year the nation's worst economic recession in almost a century amid a pandemic that has hit Mexico with the fourth-highest death toll in the world. Despite the challenging situation, Mexicans continue to hold a positive image of the president as an honest leader who is prepared to face the nation's problems, according to the poll.
He's also gained approval for his social programs and fight against poverty, the poll shows. And 44% of respondents would vote for his Morena party compared to only 18% for either of his rival parties, the PAN and PRI, which will face each other in midterm elections in June.
Mexico's Recovery Rides on Covid Relief, External Growth
A separate poll published Tuesday by El Financiero also showed AMLO's approval gaining, to 64% from 59% in August, the same level as former President Felipe Calderon two years into his term. However, Calderon at the time wasn't facing the major economic and health crises that Lopez Obrador is currently battling.
Reforma polled 1,200 adults in their homes from Nov. 24 to Nov. 29 and has a plus or minus 4.1 percentage-point margin of error. El Financiero polled 410 people by phone from Nov. 27 to Nov. 29 and reports a margin of error is plus or minus 3.4 percentage points.