Mexico Peso Gain Wanes as Trade Euphoria Gives Way to EM Worries
(Bloomberg) -- Mexico's peso, long overshadowed by the twin demons of an unraveling Nafta and a left-wing president, still managed to post the best performance against the dollar of any major currency this year. Now that both incubi are dead -- the trade pact is back on track and the new leader seems pretty market-friendly after all -- you'd think the peso has plenty of room to run. You'd be wrong: after Monday's rally, it's actually heading lower.
One-year peso volatility stuck pretty close to its 200-day moving average after U.S. President Donald Trump proclaimed a new trade deal this week, signaling that market expectations of potential price swings haven't changed much since the announcement.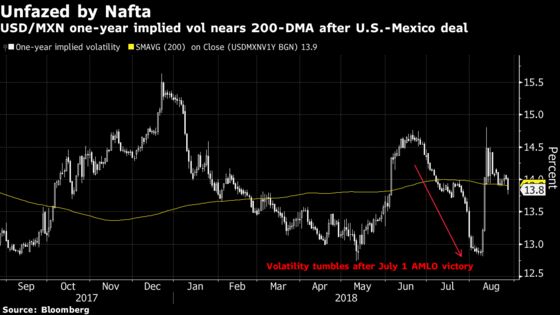 That's in contrast to big declines in volatility last month as Mexican President-elect Andres Manuel Lopez Obrador soothed investor concern that he intended to take radical steps on the economy. Peso risk reversals are also trading at levels that suggest some likelihood of depreciation -- but few signs of appreciation.
For peso traders, maybe it's not so much that the familiar beasts have been tamed, but that there are other, bigger worries out there -- including bespoke emerging-market calamities from Istanbul to Johannesburg and Buenos Aires. Keep in mind that, volatility surged as the Turkish lira imploded in recent weeks. So for the moment, it looks as if few were surprised by the U.S.-Mexico deal headlines, even setting aside concern about how much work is left to do to complete a trade agreement.
"Since mid-June, the peso has been a massive outperformer of broader EM FX markets, but the big positive news has now come and gone," said Edwin Gutierrez, the London-based head of emerging-market sovereign debt at Aberdeen Standard Investments. "The peso is now bogged down in the overall underperformance of Latin America, and it will be more correlated to broader EM FX markets."
Granted, investors from UBS Wealth Management to Janus Capital see buying opportunities in local sovereign debt, shares of the country's big exporters and the broader stock market. The peso's gain yesterday was its second in a row before it slipped today.
Yet uncertainty, the least-favorite word in markets, is still too high, according to You-Na Park, a Commerzbank foreign-exchange strategist in Frankfurt. As negotiations with Canada remain a work in progress amid expectations a final accord probably won't be sealed until year-end, Park expects the peso to gain about 4 percent from here, ending the year at 18.20 to the dollar.
NOTE: George Lei is an FX strategist who writes for Bloomberg. The observations he makes are his own and not intended as investment advice
Some information comes from FX traders familiar with the transactions who asked not to be identified because they are not authorized to speak publicly