Mexico Peso Analyst Who Forecast Post-Vote Rally Sees Gains
(Bloomberg) -- The Mexican peso's most bullish analyst says the currency's rally has room to run as investors seek out stable countries with higher interest rates and Nafta talks wind toward a resolution.
Ilya Gofshteyn, a strategist at Standard Chartered Bank in New York, was one of just two analysts surveyed by Bloomberg on the eve of the country's July 1 presidential election to predict the currency would strengthen past 19 per dollar this quarter. The peso has gained more than 5 percent since the vote that ushered in a leftist populist to about 18.85 per dollar, the best performance among more than 140 currencies tracked by Bloomberg.
Gofshteyn correctly predicted that traders would make peace with Andres Manuel Lopez Obrador after his victory, which appears to have happened after the landslide win for his party. The peso will gain to 18 per dollar by the end of the year, bolstered by carry-trade demand, progress on talks over the North American Free Trade Agreement and strong country fundamentals, according to the Standard Chartered strategist.
"Mexico looks like one of the better stories" in emerging markets, Gofshteyn said in an interview. "Uncertainty is out of the way, the country has solid fundamentals, and the currency has an elevated carry."
The peso underperformed its peers in the second quarter in the runup to the election as analysts worried that the heavily favored Lopez Obrador could deal a setback to Mexico's economy. Most analysts expected a further dip once his victory was confirmed, and a sell-off if his Morena party gained significant representation in Congress. Instead, the peso has rallied even after his party gained absolute majorities in both houses of Congress.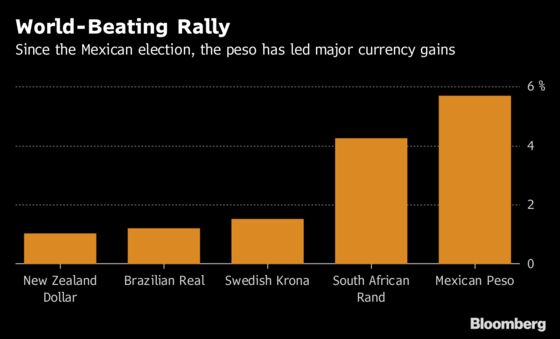 Gofshteyn expects a deal on Nafta by the end of next year's first quarter, and says a breakdown in talks is the biggest risk for the peso. One surprise benefit for the currency could come from a U.S. trade war with China, which could eventually prompt companies to shift purchases to Mexico to avoid tariffs on goods made in in the Asian nation.
"Mexico has been hurt by China's emergence," Gofshteyn said. "Barriers for Chinese goods mean an advantage for Mexican producers."
Gabriel Gersztein of BNP Paribas was the other analyst surveyed by Bloomberg to predict a rally past 19 per dollar in the third quarter. According to the latest available Bloomberg data, he also sees the currency climbing to 18 by the end of the year.
The peso rose 0.3 percent to 18.8375 per dollar at 12:45 p.m. in New York Wednesday after President Donald Trump said the U.S. is "getting closer" in trade negotiations with Mexico.