Mexico Is Said to Make U.S. Offer in Bid to Get Nafta Deal
(Bloomberg) -- Mexico told the U.S. that it can be flexible on automotive wages and content in exchange for President Donald Trump's negotiators withdrawing some of their other toughest demands, according to two people familiar with the talks.
Mexican negotiators have offered the U.S. that at least 20 percent of a car's value would come from higher-paid workers, according to one of the people, who asked not to be named talking about closed-door talks. In the previous proposal, Mexico said higher wages were just one option that companies could choose for meeting updated Nafta duty-free export rules, along with sourcing metal from the region.
Mexico's commitment doesn't come without conditions. The issue of setting wages through Nafta was once considered impossible from a Mexican perspective. The nation's private sector opposed it and was told for months that salaries weren't part of Nafta negotiations. In exchange for the wage commitment, Mexico wants the U.S. to back off its most disruptive other proposals, like limits to government contracting opportunities, barriers to seasonal exports of Mexican farm goods and an automatic termination clause, the people said.
Mexico's peso rallied in afternoon trading, gaining as much as 0.5 percent to 19.5391 per dollar, the strongest level in a week.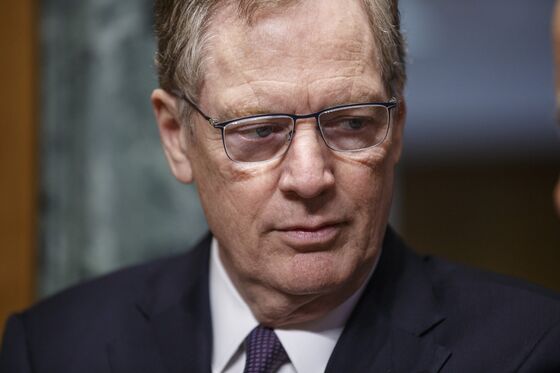 The Mexican proposal gives U.S. Trade Representative Robert Lighthizer a pathway of potential trade-offs for a resolution to update the 24-year-old pact after nine months of talks. It's unclear if the U.S. is willing to accept it, one of the people said. Mexican deputy Economy Minister Juan Carlos Baker met with Lighthizer's chief of staff, Jamieson Greer, in Washington on Wednesday to discuss potential routes to reaching a deal, the person said.
Lighthizer's office didn't respond to an e-mail seeking comment. The press office for Mexican Economy Minister Ildefonso Guajardo declined to comment immediately.
"The North American automotive sector is one of the great Nafta success stories," Kenneth Smith Ramos, Mexico's chief technical negotiator, said in a message on Twitter on Thursday afternoon. "Our objective is to strengthen it and make it more competitive with respect to other regions."
Mexico's proposal came before Trump on Wednesday threatened to impose sweeping new tariffs on imported vehicles in a possible attempt to pressure Mexico and Canada into striking a deal that would help drive manufacturing jobs back to the U.S.
Trump directed Commerce Secretary Wilbur Ross to initiate a so-called Section 232 national-security investigation into imports of cars, trucks and vehicle parts that could possibly lead to tariffs. It's unclear how this latest threat might affect Nafta negotiations.
Mexico rejects the idea that its car exports pose a national security threat to the U.S., just as its rejected America's assertion that its steel and aluminum do, according to an economy ministry official who asked not to be named.
Canada finds it "inconceivable" that the nation would pose a threat to America's security, Adam Austen, spokesman for Canadian Foreign Minister Chrystia Freeland, said in an email on Thursday, highlighting the economic and security partnership between the nations.
The cars investigation isn't the first news to cast doubt over the potential for a Nafta resolution. Last week, Lighthizer said the U.S., Canada and Mexico are "nowhere near close to a deal" to update the pact as U.S. lawmakers warn that time is almost up to reach an agreement that can pass the current Congress.
The issues specifically identified by Lighthizer in his comments as areas of difference include a U.S. proposal to open Canada's dairy market and establish seasonal barriers for Mexican agricultural exports; efforts to get Mexico and Canada to raise the threshold at which duties are applied to goods imported from the U.S.; and the rules for regional content in cars built and traded within North America.
Canadian Prime Minister Justin Trudeau during a trip to New York last week expressed optimism about reaching an agreement soon, while noting that differences remain.
"We're down to the point where a good deal is on the table," Trudeau said. "We know that those last conversations in any deal are extremely important, so I'm feeling positive about this, but it won't be done until it's done."
Freeland on Wednesday told reporters in Ottawa that automotive rules of origin is the primary focus of negotiators this week and that they've made "significant progress."