Mexico Inflation Surges Beyond Ceiling Ahead of Rate Meeting
(Bloomberg) -- A sharp spike in Mexico's inflation is leading economists to change their bets ahead of Thursday's central bank monetary policy decision, after they had earlier predicted a rate cut.
Consumer prices in the first two weeks of March increased 4.12% from the same period a year earlier, up from 3.68% in late February, the national statistics institute reported on its website Wednesday. The figure, boosted by fuel prices, came in above the 3.9% median estimate of analysts surveyed by Bloomberg.
Nearly half of the 23 economists surveyed by Bloomberg News before the inflation print were expecting the central bank, known as Banxico, to cut rates for a 13th time since August 2019.
"It seems very difficult for them to cut now," said Janneth Quiroz Zamora, an economist at Monex Casa de Bolsa who had predicted a quarter-point cut. Barclays Plc and Pantheon Macroeconomics both also changed their calls from a small cut to a hold.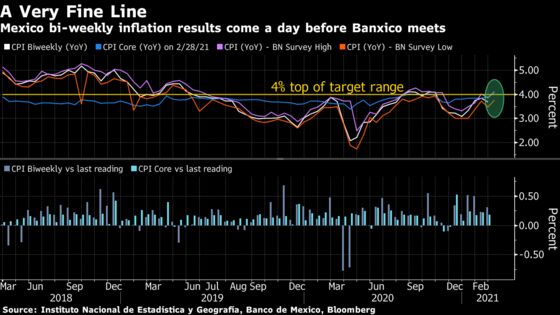 Mexico's swap curve steepened sharply after Wednesday's inflation numbers. Traders now price about 80 basis points in rate hikes by the end of the year.
Banxico unanimously voted to resume its easing cycle in February, cutting interest rates by a quarter of a percentage point. Mexico's economy shrank 8.2% last year, the most in almost a century, and the bank's easing has provided the only substantial form of economic stimulus during the crisis.
Core prices, which exclude volatile items like fuel, rose to 4.09% versus the previous year and climbed 0.35% compared to February, above expectations of 0.2%.
The central bank targets inflation at 3%, plus or minus 1 percentage point.
The bank could still cut again in the second half of the year if inflation comes under control and the Federal Reserve maintains expectations that it won't hike its own rate until 2023, said Marco Oviedo, chief Latin America Economist at Barclays.
Fuel prices led the gains in the inflation index, rising 9.45% year-on-year. Cooking gas prices rose 4.05% versus February.