Mexican Stocks Drop With Peso After Senate Defies Lopez Obrador
(Bloomberg) -- Mexican stocks are heading for their lowest close in more than two-and-a-half years, led by lenders Grupo Financiero Banorte and Banco Santander Mexico, after the ruling party said it would push ahead with proposals to cut bank fees.
Senate members of the Morena party backed the proposals Monday, contradicting President-elect Andres Manuel Lopez Obrador who said Friday that there would be no banking law changes in the near future. Mexico's benchmark stock index dropped 2.2 percent to the lowest since February 2016, with Banorte slumping 8 percent. The peso retreated 0.7 percent.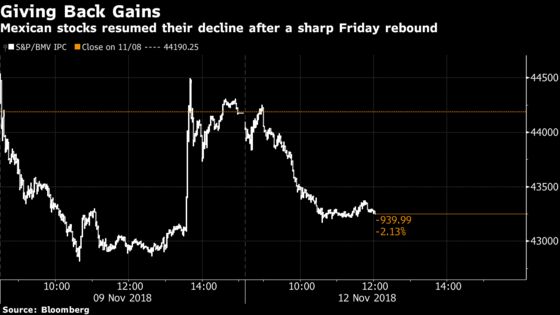 Investors are struggling to gauge the policies of Lopez Obrador following his decision to cancel a partially built, $13 billion airport project and the mixed signals from the incoming administration over banking fees. AMLO, as he is known, assumes power on Dec. 1, five months after winning the election.
"We have seen this sort of thing before when outsiders come to power," said Jan Dehn, the London-based head of research at Ashmore Group, which oversees $76 billion. "Either AMLO shows them who is boss or he appears weak. These are teething problems, but it is important that AMLO handles them right."
Dehn said Ashmore is underweight Mexican debt given the heightened uncertainty until Lopez Obrador passes his first budget.
Among banking stocks Regional SAB and Banco del Bajio fell at least 2.8 percent, while Grupo Financiero Inbursa trimmed earlier gains to just 0.3 percent. Mexican stocks in general underperformed peers, with the MSCI Emerging Markets Index falling 1 percent amid a risk-off day for investors.
The bank fee proposal, introduced by Senate majority leader Ricardo Monreal, would scrap certain commissions including those charged to customers for withdrawing cash and checking their balances. Mexican assets rallied Friday after Lopez Obrador vowed to put any changes on the back-burner.
The Senate's announcement may mark the start of a third volatile week in the country's markets. Since Lopez Obrador's decision to cancel the planned Mexico City airport two weeks ago, Mexican stocks have dropped 5.5 percent.
"We are cautious on Mexico risk as we don't think the AMLO risks are completely priced in," said Shamaila Khan, director of emerging-market debt at AllianceBernstein in New York. "There are certain things he may not compromise on. One is the airport and the other could be energy reform."