Mexican Peso Jumps After Lopez Obrador's Conversation With Trump
(Bloomberg) -- Mexico's peso led gains among emerging-market currencies as sentiment improved overnight on speculation that Andres Manuel Lopez Obrador, the country's next president, may seek a congenial relationship with his U.S. counterpart.
The currency climbed nearly 2 percent to 19.5745 per dollar, which would be the strongest closing level in more than a month. The peso was among the world's worst performers in the second quarter as investors fretted about the leading contender's leftist politics. It edged lower Monday in the aftermath of Lopez Obrador's commanding victory at the polls.
Traders were encouraged after a conversation between Lopez Obrador and Donald Trump yesterday in which they discussed border security, the North American Free Trade Agreement and a potential bilateral trade deal. The new president's pick for foreign minister, Hector Vasconcelos, told Televisa that another meeting may happen. Lopez Obrador -- popularly known as AMLO -- published a book last year that was sharply critical of Trump, fueling concern he might prove more combative with Mexico's largest trading partner.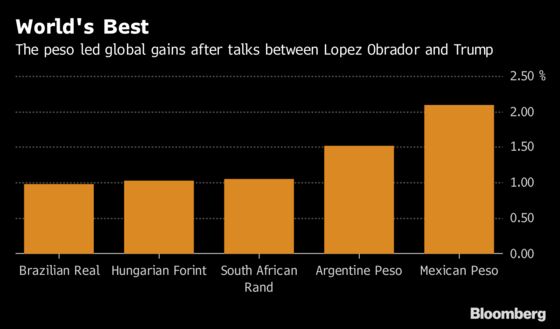 "The news of the call between Trump and AMLO yesterday afternoon and the comments made about economic policy may have given the market some peace," said Jesus Lopez, an analyst at Banco Base in Monterrey.
Lopez added that investor positioning ahead of the July 4 holiday in the U.S. was also a factor in Tuesday's trading. Liquidity will be reduced during the holiday, so traders who have held onto their short peso positions -- despite a more than 5 percent rally since mid-June -- may be exiting their bearish wagers now before it gets more difficult tomorrow.
Investors may be growing more comfortable with the idea of a Lopez Obrador presidency after the populist struck a moderate tone in his victory speech, pledged central bank autonomy and said the peso would be allowed to trade freely.
The peso also benefits from relatively high local interest rates, which encourages foreign investors to borrow dollars to buy domestic bonds in Mexico.
"AMLO's speech was conciliatory, and his economic team has been speaking with investors," said Claudia Ceja, an analyst at BBVA in Mexico City. "In the context of risk appetite in global markets, the peso has space to have a better relative performance."