Merz Slams ECB as Laschet Touts Him for German Finance Role
(Bloomberg) -- The European Central Bank's hopes of avoiding becoming a political football in Germany's election campaign took a hit on Tuesday as a possible future finance minister of the country laid into the Frankfurt-based institution. 
"The ECB is pushing against the limits of its mandate," Friedrich Merz said at an industry lobby event in Berlin, where the former caucus leader of the conservative bloc was unveiled as a potential finance chief in a future cabinet of Armin Laschet, the party's leader and candidate to succeed Chancellor Angela Merkel.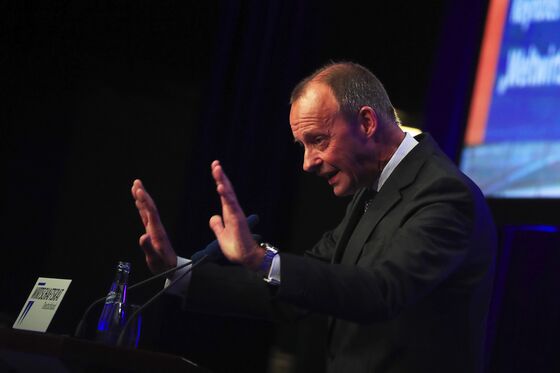 Merz is the "economic and financial face, who will also shape Germany's policy after the election," Laschet said, provoking roaring applause from the audience. "We are determined and unified here."
Becoming finance minister would be a consolation prize for Merz, a former BlackRock manager who lost out in the race for the CDU leadership last year. Since then, he has joined Laschet's team with a view to heading up a so-called superministry of finance and economics in a future government.
While relations between the German government and the ECB have rarely been straightforward, Merz would probably complicate them. On Tuesday, he went on to criticize the Governing Council's decision to raise its inflation goal to 2%, and insisted it should stick to monetary policy rather than dabble in financial stability. 
Merz's chances of becoming finance minister are hard to gauge at this stage, and would depend both on the election and on subsequent coalition talks that could well lead to his party's shift to opposition. Polls put Merkel's CDU-led conservative bloc now in second place behind the Social Democrats led by the current Finance Minister Olaf Scholz.