Merkel Warns U.K. It Can't Dictate Brexit Terms to Europe
(Bloomberg) -- German Chancellor Angela Merkel warned the U.K. it can't set unilateral terms for leaving the European Union as Prime Minister Theresa May heads to Brussels to try to complete a contentious Brexit deal.
Addressing lower-house lawmakers in Berlin, Merkel gave short shrift to Brexit while rattling off domestic achievements, pleading for stronger bonds between EU nations and criticizing go-it-alone policies as false patriotism. Her message to the U.K. reflected Merkel's opposition to renegotiating the draft Brexit accord and the risk of last-minute obstacles ahead of an EU summit on Sunday.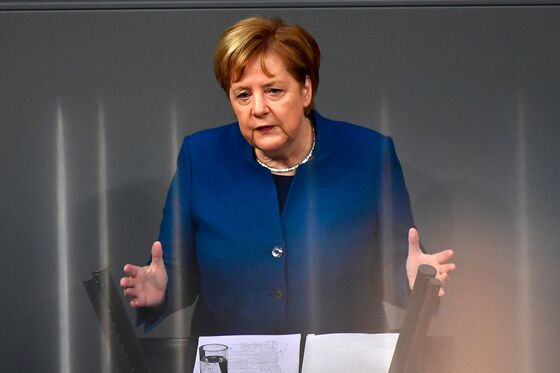 Still pending are reservations by Spain about the future status of Gibraltar and "I can't say how we'll resolve it," Merkel said in her speech on Wednesday.
"We also know how difficult the debate in Britain is," she said. "What's been important to us is that Britain can't decide unilaterally when it ends the customs union, but rather has to define that timeframe jointly with the EU."
It was Merkel's third such warning within a week to May, who's caught between colleagues who want her to rewrite the deal and EU leaders who say they'll walk away if she does. On Tuesday, Merkel and her deputy chancellor, Olaf Scholz, both made it clear there's no wiggle room on the Brexit draft that's on the table.
"The German government doesn't see any need for new negotiations or renegotiation," Ulrike Demmer, a government spokeswoman, told reporters Wednesday.
Alongside the exit conditions, work is still being done on the future relationship between the U.K. and the European Union, Merkel said.
"Both documents have to be finalized by Sunday so that we can sign the exit agreement, and accept the statement on the future relationship," she told lawmakers. In a pointed rebuttal to Brexit supporters, she said the EU's free movement of workers "has given us prosperity, not just to Germany but also to other countries."
While Merkel told parliament she backs the accords, Spanish Prime Minister Pedro Sanchez said Tuesday he can't support the deal. That's after Spanish officials said last-minute changes to the text don't make it clear enough that Gibraltar's status should be discussed separately in bilateral talks with the U.K.
With Britain about to cut itself loose from the EU and President Donald Trump pursuing his "America First" agenda, Merkel devoted her speech to pleas for multilateral solutions, including on migration.
Believing that "you can solve everything on your own" is "the purest form of nationalism, not patriotism," she said to applause. "Patriotism is when you place German interests in the service of win-win situations."
Merkel's stance is under attack within her Christian Democratic Union, including by one of the candidates to succeed her as party head, Health Minister Jens Spahn. That prompted Merkel to come out in favor of a proposed United Nations migration pact after Austria joined the U.S., Australia and Hungary in rejecting it.
"This pact for migration is the right response in order to solve global problems internationally and cooperatively," she told lawmakers.
With her governing coalition's parties at historic poll lows, Merkel said in October that she won't run for re-election in 2021. She has signaled she wants to serve out her term, the fourth since she took office 13 years ago.
"Now, the contemplation of her political legacy begins," Christian Lindner, head of the opposition Free Democratic Party, told parliament.