Merkel Warns Toughest Months in Pandemic Fight Are Still to Come
(Bloomberg) -- Chancellor Angela Merkel warned that "the most difficult months" in the fight against the coronavirus pandemic still lie ahead.
After extending and tightening lockdown restrictions earlier this week, Merkel's stern message came as daily fatalities in Germany exceeded 1,000 for a second consecutive day, pushing the death toll to nearly 38,000.
While weeks of strict curbs have helped reduce contagion rates, they're still well above a government target, straining the health-care system. On Tuesday, Merkel and state leaders agreed to controversial limits on movement, sharpened restrictions on private gatherings and prolonged hard lockdown measures until at least Jan. 31.
"At the same time, there is a glimmer of hope in that vaccines are now available," Merkel said on Thursday during a virtual event of her conservative bloc.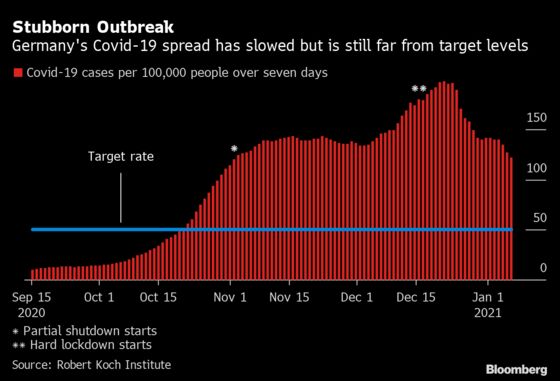 The World Health Organization echoed Merkel's alarm. Europe is probably in the most acute phase of transmission right now, according to experts from the organization's regional office.
Any appearance of flattening case numbers -- as is the case in Germany in recent days -- may be deceiving because of less testing during the holidays, the WHO said in a press briefing on Thursday. The impact from Christmas and New Year celebrations haven't yet been fully reflected in the statistics.
"We are very much in the thick of it," said Catherine Smallwood, a WHO senior health emergency officer. "We still need to continue everything that we have been doing, at least for the next six months."
While vaccinations, which have been ramping up slowly since Dec. 27, will prevent vulnerable people from becoming severely ill, going to the hospital and dying, at current levels, it won't stop the virus from spreading, she said.
Total infections in Germany rose by another 26,663 in the 24 hours through Thursday morning, to 1.84 million, according to data from Johns Hopkins University. Deaths have more than doubled since the start of December
Still, Covid-19 patients in German intensive care units declined to 5,549 on Wednesday from a peak of 5,745 on Monday, according to DIVI-intensivregister.