Merkel Warns of Third Virus Wave as Germany Weighs Ending Lockdown
(Bloomberg) -- Chancellor Angela Merkel warned that Germany is in the midst of a third wave of coronavirus infections and should proceed carefully with reopening schools and businesses, putting a damper on discussions to loosen lockdown curbs.
The note of caution comes as Germany struggles on numerous fronts to control the pandemic. Infection rates haven't come down for days, while the pace of vaccinations remains sluggish. A delayed test strategy represents the latest foul-up.
Health Minister Jens Spahn promised to make quick tests widely available from March 1 to facilitate a gradual return to normality as immunizations ramp up. After Merkel shot down Spahn's plan in a cabinet meeting on Monday, she will now discuss it with state leaders on March 3.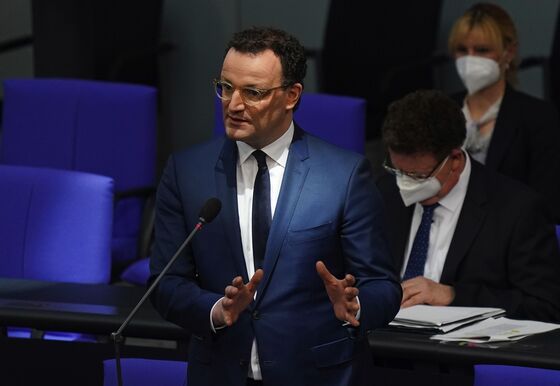 "We're in principle ready to go, but many have asked how we can better integrate it into opening strategies, so we're discussing that now," Spahn said in an interview with ZDF television.
Whether tests will be free for consumers will depend on how much they cost the government, Spahn told lawmakers on Wednesday in a question-and-answer session in the parliament. Quick tests are already widely available, he said, predicting that self-tests would soon be as well.
Political strains have increasingly bogged down Germany's pandemic fight, as election-year campaigning muddies discussions. Multiple plans to reopen Europe's largest economy are in the works, while Merkel -- who will leave office after the September elections -- argues for a gradual approach.
Ending restrictions on personal contact must be accompanied by more testing and vaccinations, Merkel told lawmakers from her conservative bloc during a video conference on Tuesday, according to a participant on the call. The chancellor warned that the aggressive British variant is already spreading in Germany, threatening the success of the country's containment efforts to date.
Helge Braun, Merkel's chief of staff and a trained medical doctor, told lawmakers that virus mutations could rapidly lead to a rise in new infections. He said the contagion rate could potentially soar as high as 800 infections per 100,000 people over seven days.
After falling steadily since Christmas, Germany's incidence rate has been stuck at about 60 for more than a week, according to data from the Robert Koch Institute. Merkel has set a rate of 50 as the minimum for lifting certain restrictions, with further curbs possibly eased when the level falls below 35.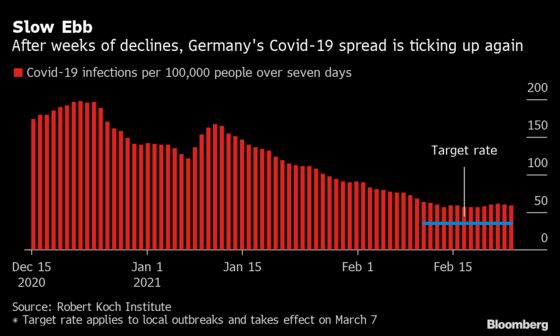 With Germans growing increasingly weary of the lockdown and a nationwide exit plan not in place, state officials have put forth their own proposals.
In Germany's northernmost state of Schleswig-Holstein, Daniel Guenther -- the premier from Merkel's Christian Democrats -- called for a four-stage program of reopening shops and restaurants in regions with an incidence rate below 50, while the Social Democrats' Malu Dreyer -- who leads Rhineland Palatinate and faces an election on March 14 -- has a separate plan based on the number of new infections, tests and vaccinations.
Bavarian Premier Markus Soeder -- a possible chancellor candidate for Merkel's conservative bloc -- has warned of the danger from virus mutations and called for the continuation of the chancellor's strict lockdown policy.
On Tuesday, Chief of Staff Braun met with state officials to try to find a consensus ahead of the crunch meeting on March 3. Aside from the growing array of state plans, Economy Minister Peter Altmaier is working on his own strategy aimed at providing a perspective for businesses.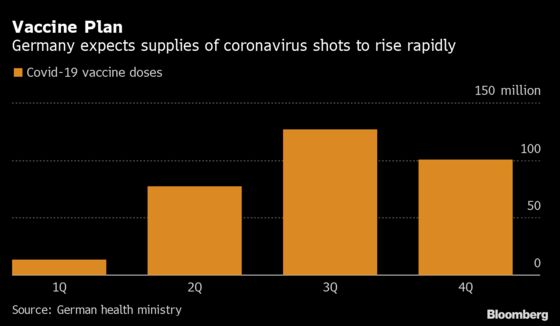 As part of the debate about reviving the economy, Alexander Dobrindt, caucus leader for the Bavarian conservative party, proposed a digital certificate to allow vaccinated citizens to circulate freely. But Merkel said it's too soon for that kind of a program.
"When we've made a vaccination offer to enough people and some of them don't want to be vaccinated at all, one would have to consider whether there should be access and opportunities in certain areas only for vaccinated people," the chancellor said in an interview with Frankfurter Allgemeine Zeitung. "But we're not there yet."
Germany has immunized just over 6 out of every 100 people, compared with nearly 28 in the U.K., according to Bloomberg's Covid-19 Vaccine Tracker.
In the meantime, there is some positive news. The first three coronavirus self-tests were approved in Germany on Wednesday, with more set to follow soon.