Merkel Anxious That U.K.'s Mutated Virus Will Hit Germany Hard
(Bloomberg) -- Chancellor Angela Merkel warned that Germany may need to prolong its coronavirus lockdown until Easter due to risks posed by a fast-spreading variant from the U.K.
Europe's largest economy has already seen its outbreak intensify in recent days, despite tightening restrictions on movement and contact. Now authorities are looking with concern toward Ireland, where the new strain has contributed to one of the world's worst contagion rates.
During a video call on Tuesday, Merkel said harsh curbs might have to remain in place for the next eight to 10 weeks to combat the mutation, according to a person on the call who asked not to be identified. Other officials quickly echoed her concerns, and a strategy meeting could be called before the next planned gathering on Jan. 25.
"If this virus really hits harder, then the lockdown measures will have to be sharpened," Ralph Brinkhaus, the head of Merkel's parliamentary caucus, told reporters in Berlin. "Nobody can say right now if that will take eight or ten weeks" of stringent curbs, he said, adding that the rising number of fatalities in care homes is "really tragic" and "incredibly sad."
Since the variant was first detected in southeast England in mid-December, infections have surged and British hospitals have been swamped with Covid-19 patients. The strain, which could be over 50% more transmissible, has been detected in Germany, but the extent of its spread remains murky.
Because Germany's labs don't regularly examine the structure of the virus, it's unclear how widespread the variant may already be in the country. To counter this, Merkel's government is looking to make funds available for labs and require them to share data with the country's RKI public health institute.
Health Minister Jens Spahn wants to prevent more dangerous strains from entering Germany by tightening restrictions for people traveling from affected countries, Der Spiegel magazine reported Monday.
There have already been worrying signs. After a dip over the holidays, Germany's contagion rate has jumped and was at 165 cases per 100,000 people on Tuesday, more than triple the level the government has determined to be manageable without wide-ranging contact restrictions.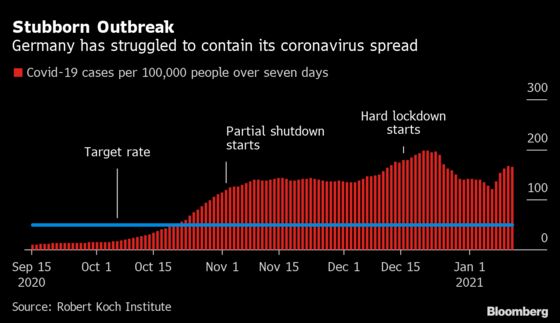 Germany has closed schools, gyms and non-essential stores for weeks. Earlier this month, it tightened limits on private gatherings and imposed a 15-kilometer (9.3-mile) travel restriction on people in areas with more than 200 cases per 100,000 people.
The opposition Green party called for restrictions beyond the current lockdown, including obliging people to work from home where feasible and requiring seat reservations on commuter trains. Current measures are set to run until at least the end of the month.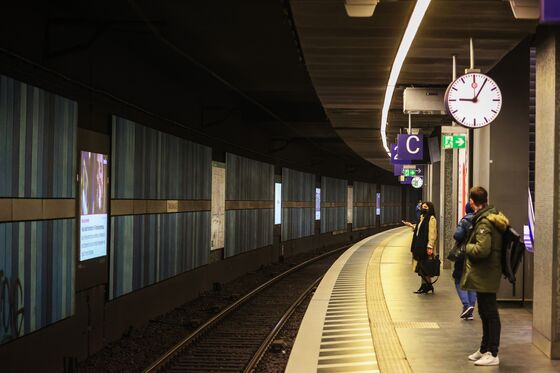 The more aggressive mutations create an "extremely serious" situation that "could put all efforts of recent weeks at risk," said Markus Soeder, the premier of Bavaria, adding that Germany needs to do more to tap its technological and industrial base to fight the pandemic.
"We're a pharmaceuticals country," he said. "We have the most production sites for machinery and pharmaceutical. In such an emergency situation, it should be possible to join capacities and produce more vaccines."
EURO-AREA INSIGHT: Faster Virus, Slower Economy -- 1Q GDP at -4%
Germany and its European partners began rolling out a vaccine at the end of December, but progress has been slow and officials have said it will take months for the shots to have a tangible impact.
Misinformation is undermining Germany's campaign, including discouraging workers in old age and nursing homes from getting the shot, said Soeder, a contender to succeed Merkel as chancellor.
The government should consider making vaccinations obligatory for people coming into close contact with vulnerable individuals, he said, adding that Germany already requires inoculations for the measles, which is far less dangerous than the coronavirus.
"It's surprising," Soeder said. "It has to do with this incredible fake news that spooks around on the web."